'Schitt's Creek' Monopoly Exists, And There's A Moira's Wig Game Piece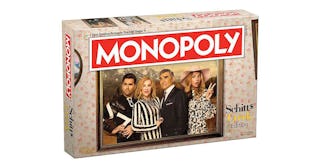 Usaopoly
Family game night just got the sweetest upgrade thanks to Monopoly: Schitt's Creek edition
In what might be the most fitting collaboration to ever exist, there's now a Monopoly game based on Schitt's Creek, which means you can actually buy the beloved Rosebud Motel with your own hard-earned Monopoly money.
Available online for $39.99, Monopoly: Schitt's Creek is aimed for two to six players age 14 and up, offering details and references so perfect, you'll feel like an honorary Rose family member as you play. The classic board game gets an Alexis Rose-worthy makeover, allowing players to buy, sell, and trade popular locations from the show, including — of course — the Rosebud Motel, Bob's Garage, Herb Ertlinger Winery (where Moira filmed her iconic fruit wine commercial), and many more.
Every detail is David Rose-approved, from the aptly renamed Chance cards (Hello You) and and Community Chest cards (Love That Journey for Me) to the game pieces, which include references that the series' biggest fans will instantly recognize: Bébé Crow, Patrick's Guitar, Rosebud Motel Key, David's Sunglasses, Ted the Turtle, and Moira's Wig. Like any true Monopoly game, you'll have to try your luck at purchasing the town's most famous landmarks, while also paying rent and taxes, like Roland's Truck and That's Not a Write Off! along the way.
Like the original game, the Schitt's Creek edition will take at least an hour of playing time, making it ideal for game nights with loved ones as obsessed with the hit Canadian series as you are. The game's release is also perfectly timed to the holidays, which means you can buy one for yourself and for your pals who love the show as much as you do, as it's undoubtedly a perfect collector's item for any true fan.
Check out some close-up shots of the colorful game:
The Schitt's Creek version of the iconic Hasbro board game marks the latest in a seemingly endless collection of memorabilia and gifts inspired by the beloved sitcom, which came to an end after six seasons in 2020. But this one definitely feels like the most fitting addition, and fans are pumped to snag one of their own, sharing their thoughts on Twitter with their favorite GIFs from the show.
Don't wait too long to grab yours, as it seems highly likely it might sell out online. We can't think of anything more perfect than this — winning a Monopoly version of the Rosebud Motel and earning well-deserved bragging rights among your nearest and dearest? We love that journey for you.