Lego Revealed Their First Animal Crossing Sets For Hours Of Island-Building Fun
They're so cute and tiny!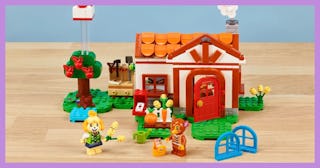 LEGO
We may receive a portion of sales if you purchase a product through a link in this article.
Nintendo and Lego has collaborated to bring everyone's favorite Nintendo Switch game to life with several Animal Crossing lego sets for hours of island building fun.
The partnership between the two brands that was teased last week, but now there is official news that the legendary brick toy sets will featuring characters, homes and shops from Animal Crossing — all to be released early next year.
Animal Crossing Lego price
Lego rolled out five different Animal Crossing Lego sets on their website featuring different landscapes and aspects of the game, including adorable Lego versions of popular characters that players encounter while playing cult favorite game.
One of the more intricate sets, costing $74.99, focuses on the home of Tom Nook, the raccoon who introduces players to their deserted islands, that also includes the general store, Nook's Cranny, where players can shop. Also included in that set is the cat-like character of Rosie.
"A great birthday gift idea for Animal Crossing fans, this set features recognizable details from the game series as they explore the shop where Tom Nook, a raccoon, sells items such as a DIY recipe card, flower seeds, fish bait and tools in exchange for iconic Bells," the website reads.
Lego fans can build and create the home of Isabelle, the friendly dog in Animal Crossing who helps players at the resident services building. She is featured in a 389-piece set costing $39.99 along with the deer villager Fauna and her home.
"Kids take a tour of Fauna's house with Isabelle. The interior, styled in Fauna's colors, is filled with recognizable details, as well as a host of new ones to inspire kids to create fresh stories for the characters," the website reads.
"They can fire the pretend slingshot to pop the present-carrying balloon, check the cell phone tile for messages, post a letter in the mailbox or help the minifigures water the garden and grab an apple from the tree. The workbench holds a DIY recipe card, and there's a surprise hidden in the tree. Kids rearrange the furniture, swap the window frames and even reassemble the baseplates to choose how the house looks."
At 170 pieces, Animal Crossing fans can build a birthday party for the horse villager named Julian.
"Kids throw a party for Julian, a horse, girls and boys will recognize from the video game series. They give him a gift that includes a microphone and Bell coin element, and share cupcakes while Julian blows out the candle on his birthday cake. Once the festivities are over, kids remake the buildable scene, moving around the baseplates and rearranging the toy balloons, decorations and accessories," the website reads.
"Put all the customizable fun of the Animal Crossing video game series into kids' hands. A top birthday gift idea for fans of Julian, this modular set can be added to other LEGO Animal Crossing creative building sets to create unlimited play possibilities."
On a 164-piece set, rabbit villager Bunnie hangs out in an outdoor camping setting ($19.99).
"This set is a great gift for creative kids who love the Animal Crossing video game series. They use the many accessories to make the set their own. They can role-play outdoor life using the bug net, shovel and axe – all recognizable tools from the video games," the website reads.
"Fun functions include a mechanism that lets Bunnie leap the river using a vaulting pole. There is also a tent that opens, making it easy to tuck Bunnie in for the night. Kids can further express their creativity by reassembling the baseplates and decorating them with the many accessories."
The final 233-piece set features turtle villager Kapp'n and squirrel villager Marshal taking a boat to explore another island ($29.99.)
"Kids' imaginations set sail as they head off with Kapp'n the turtle on his boat to the Animal Crossing-inspired deserted island to meet Marshal the squirrel. As they explore the activity-packed island, they collect the video game's iconic bamboo, go digging for Bells and use the fishing rod to catch some fish to sell," the website reads.
"After the fun role play, kids get creative rearranging the baseplates to change this building toy's layout. Every element is movable, which leads to limitless customizable fun!"
The five sets range in prices from $14.99 to $74.99 and feature distinct landscapes and scenes from Animal Crossing: New Horizons.
Animal Crossing lego set release date
The Animal Crossing Lego sets will be available for purchase March 1, 2024 online, in Lego stores around the world, and at any participating retailers.
"The Animal Crossing video game series is about creating a world where you freely build the life you want, and now with Lego bricks, you can build that world with your own hands in the real world too," Nintendo game producer Aya Kyogoku said in a statement.
"There are so many different ways kids will be able to express their creativity based on what they like, which can evolve as they grow."
This is the second recent collaboration between Lego and Nintendo.
In fact, Lego also announced recently, as part of their ever-growing Super Mario collection, a Piranha Plant set is coming in November for fans to recreate that pesky plant that's always shrinking Mario down a size.
So, basically cancel all your plans for the rest of the year (and the beginning of 2024, honestly) because we're all going to be hunkered down healing our inner children with some Lego building.