The International Fan-Favorite Costco Mango Smoothie Is Coming To U.S. Food Courts
And the price is super affordable of course.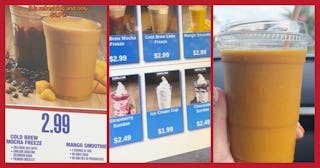 TikTok / @costcoaisles
U.S. Costco shoppers rejoice! The fan-favorite international food court item — the Costco Mango Smoothie — will soon be available all over the country.
Avid Costco shoppers have long compared the differences between international Costco food court items and U.S. Costco food court items, hoping that someday, their local bulk store would have some of the fun items that international Costco stores have (like hazelnut Beignets? Are you kidding?)
U.S. Costco food courts have the tried and true hot dog and pizza, but there are some foods long-coveted by American bulk shoppers that just have never made it onto the menu. For example, the Canadian Costco fried chicken and french fries or Iceland's coveted Costco cheeseburger.
All Recipes reported in April that the Mango Smoothie — which was first spotted in Australian Costco food courts — was also being sold in Hawaii and Mexico, possibly test markets for a wider release in the mainland states. Sure enough, Costco locations on the west coast are reportedly seeing the item pop up on their local Costco food court menus.
When will the Costco Mango Smoothie be available in the U.S.?
All Recipes reports that the Mango Smoothie was officially introduced in 2022, at the annual Costco shareholder meeting.
"We will be testing a Mango Smoothie in our Hawaii locations. If the test is successful our plan is to expand the Mango Smoothie to all U.S. locations as a rotational item with our Berry Smoothie," read the meeting notes.
According to Costco Reddit threads, this statement was corroborated when shoppers started to see the Mango Smoothie pop up in California locations. It appears that the Mango Smoothie roll out has only begun on the west coast, specifically in California and Washington State Costco locations. However, one Reddit user noted that the Mango Smoothie was spotted in an Oklahoma warehouse.
What does the Costco Mango Smoothie taste like?
It may take some time for the new drink to make its way across the whole U.S., but in the meantime, customer reviews on the beverage seem mixed.
"It's so good," reads one TikTok comment. "It's quite refreshing."
Others found the new Costco Mango Smoothie to taste a little off.
"It low key tasted like baby food to me but it wasn't really bad 😭," one user wrote.
Another echoed, "To me it tastes like Gerber baby food 😒."
One more said, "Maybe it's just me. But it reminded me of baby food. Very thick consistency."
While there is no set reason for why these complaints are coming in, but one Costco member speculated that the smoothie tasted like overripe fruit because Costco was, in fact, using overripe fruit to make the smoothies.
One Reddit user noted that they thought the smoothie was a bit "too sweet."
That taste test result would track considering mangoes are one of the more sugary fruits. One whole mango has about 46 grams of sugar.
The Mango Smoothie has no added sugar, no additives or preservatives, and contains four servings of fruit. The new smoothie clocks in at 360 calories.
How much does the Costco Mango Smoothie cost?
According to reports, once the Costco Mango Smoothie reaches a warehouse near you, it will rotate with the Berry Smoothie on the food court menu. The Costco Mango Smoothie costs $2.99 for 15.5 oz. — the same as the Berry Smoothie or the price of two Costco hot dog and soda combos.