25 October Prime Day Deals On Halloween Costumes, Decor, & Other Spooky Last-Minute Needs
There are some scary good deals this year.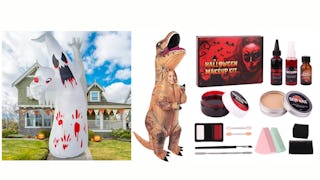 Amazon
We may receive a portion of sales if you purchase a product through a link in this article.
Sure, Halloween is mere weeks away. By now, you should have your sh*t together — your fam's costumes, decorations, a fully stocked candy bucket for trick-or-treaters... the whole shebang. But you know what? Moms have 7 million things to do at any given moment (default parenting at its finest). If last-minute supply shopping is more your jam, do your thing. In fact, with Amazon's October Prime Day deals on Halloween costumes and decor, one could argue you were downright smart to wait.
Whether you're on the hunt for some cutesy Halloween-themed PJs for the kids or some more spooky stuff to toss on the mantel, you'll find it here. And because Halloween is the most magical holiday of all, you're going to save anywhere from 25% all the way up to 60+% when you add these procrasti-shopping treasures to your cart.
So, bask in the glory of your brilliant timing while you stock up on essentials for this Halloween and next.