The Future Might Involve AI-Powered Teddy Bears That Tell Your Kid Custom Bedtime Stories
Teddy Ruxpin 2.0, if you will.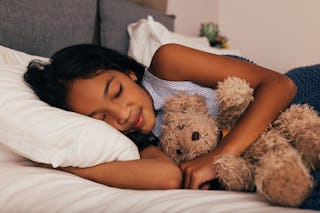 Artem Varnitsin / 500px/500Px Plus/Getty Images
Anyone who hasn't been living under a rock knows that artificial intelligence (AI) and services like Google Bard and ChatGPT are becoming more relevant and powerful with each passing day. While AI can be useful for helping plan out a schedule, write up copy for a flyer, or even design a room — toy makers are saying that AI might make its way into children's toys and games sooner than we think.
Now, toys that talk back to kids and interact during play is nothing new for those who grew up in the days of the Furby or Teddy Ruxpin. However, AI toys could be a stretch too far for some parents.
Despite the apprehension, toy makers are predicting the future of toys may be AI-powered.
Allan Wong, CEO of VTech Holdings — which makes electronic learning toys for kids — told the Financial Times that ChatGPT could be incorporated into toys by 2028, including AI teddy bears.
Wong pointed out that smart toys including the teddy bears could use "AI to generate stories customized for the kid rather than reading from a book," because they will have access to personal information about the child.
Wong says the interactive plushies could offer parents an alternative to traditional bedtime story rituals. Using AI, the bears could create customized tales catered to an individual child. Wong believes these bears could also talk a child down from a meltdown, entertain them and teach them lessons.
"You can incorporate not only the kid's name but the kid's daily activities. [It] knows you go to which school . . . who your friends are. It can actually be telling a story and talking almost like a good friend," he said.
"The kids . . . can actually talk to the toy, and the toy can actually give [them] a response," he added. "So [there are] many, many possibilities."
Isn't this a Black Mirror episode already or something? Or more like M3GAN?
Wong did acknowledged that some parents might be a bit wary of the possibilities that could come with welcoming an AI-powered teddy bear into their home especially one that will potentially have a unique bond with their child.
For example, Wong notes that AI being privy to details about a child are "a little scary," and emphasized that "we should be aware of the dangers, on privacy, security, what kinds of things to teach and what not to teach."
The toymaker also noted that generative AI is "not mature" enough to be applied to toys just yet, but VTech will be looking out for the opportunity in the near future.
VTech would not be the first toymaker to take a dive into tech-advanced toys for children. In 2015, Mattel released Wi-Fi-enabled Barbie doll called "Hello Barbie." It recorded, collected and saved conversations had while playing. After several parents spoke out against the toy's complete invasion of privacy (specifically concerns about recorded data potentially being used for marketing purposes), Mattel was sued and made changes to comply with the Children's Online Privacy Protection Act.
The Children's Online Privacy Protection Act created certain requirements on operators of websites or online services directed to children under 13 years of age to help protect children's privacy by giving parents tools to control what information is collected from their children online.
As society moves toward a more AI-powered world, parents should study up on the latest news and innovations when it comes to AI as well as talk with their kids about the risks involved with AI and tech-advanced toys and tools — especially before buying a teddy bear that could collect and repeat information about your kid.