15 Spring Decor Items From Target So Cute That No One Will Notice You Didn't Clean
Lost the Clorox wipes? Just cover up the crumbs with a new table runner!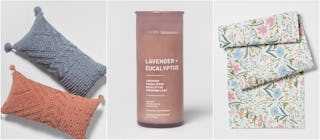 Target
We may receive a portion of sales if you purchase a product through a link in this article.
Whether you live with a slob (here's looking at you, tweens) or simply never have a spare minute to straighten anything up, spring cleaning low-key sucks. Actually, it sucks big time. From dusting off fans and floorboards to deep cleaning appliances and scrubbing showers, it's just not fun — or how we imagine spending our first few sunny weekends in what feels like centuries. But shaking your house clean doesn't have to feel like a total chore when you throw in a mini spring shopping spree at Target.
Why spend hours fussing over the trampled, germ-clogged rug when you can pick up a new one during your next Target run? Swapping out basic linens like dish towels and opting for chicer everyday items like soap dispensers can elevate your space in a way cleaning can't. So, go ahead; add all of these items to your cart. You can thank us later.
Opalhouse Oversize Embroidered Textured Lumbar Throw Pillow
Do you live with messy eaters? Distract guests' eyes from crumb stragglers with a new assortment of vibrant couch pillows. These embroidered, oversized cushions will give your sofa both a colorful and more supportive refresh.
Project 62 Textured Ceramic Vase White
A new vase filled with fresh flowers or eucalyptus can transform your home into a zen space in a snap of a finger. This spring cleaning hack isn't only visually cute, but will make your space smell good, too! Shop from two different sizes.
Threshold Seagrass Black Border Charger
Welcome in warmer weather with a set of modern beach, neutral place settings. The geometric-designed placemats are made from 100% woven seagrass with black trim. It's chic yet affordable — our favorite combo.
Threshold 72" x 14" Cotton Floral Table Runner
You'll never have to look at those stubborn dinner table scuff marks again thanks to this beautiful floral pattern table runner. Knock over a glass of red wine? The table runner is made out of cotton and can get thrown right into the washing machine.
Nearly Natural 24" Spring Garden Wreath with Twig Base
Why plant a garden when you can slap a floral wreath on your front door instead? This gorgeous product is crafted from an assortment of daisies, roses, hydrangeas, and twigs. Unlike planted flowers, this faux wreath won't die; store it during fall/winter and bring it back out next spring.
Threshold 1'6"x 2'6" 'Squeeze The Day' Coir Doormat Natural
How does the saying go again — when life hands you cleaning supplies, get a lemon-themed doormat? If anything, at least you're being proactive by having a doormat to help keep the crap off the bottom of your shoes from taking over your house.
Threshold Artificial Trailing Scindapsus Plant Arrangement in Ceramic Pot
A faux potted plant is the easiest way to take up shelf space while also adding some dimension to your room — plus, it doesn't need a watering schedule. Nestled in a white ceramic pot, the trailing scindapsus plant has a textured look to it and will add a pop of color.
Opalhouse Geometric Printed Tile Persian Rug
Pulling hair, crumbs, dirt, and lint out of a worn-out rug < buying a new rug from Target that'll feel like you're literally walking on clouds. The sweat and tears wasted over vacuuming and deep conditioning your current rug sometimes just isn't worth it. Save your time and give your space a glow-up with a new rug instead.
Threshold Cloverly Chunky Knit Pouf
You can sit on it, throw your feet up on it, or if you're a daredevil, use it as a side table. Poufs are becoming increasingly popular among families because they double as decor and seats. Lucky you, Target has seven different colors to choose from.
Threshold Large Ceramic Modern Malin Vase
Whether you actually want to use it as a vase or accent piece is up to you, but its eclectic shape and mauve coloring make this object super funky. Featuring a distressed earthenware finish, it might be smart to keep this terracotta vase out of reach of tiny (and clumsy) hands.
American Art Decor 5 Hook Home Sweet Home Framed Coat Rack
Trade your family's junk chair/bench for a cute hanging rack. Now your fam can organize their jackets, umbrellas, purses, and backpacks in style and you'll get your floorspace back!
C&F Home Happy Spring Embroidered Waffle Weave Kitchen Towel
If you're looking for a quick and easy way to freshen up your kitchen, you can't go wrong with a new set of dish towels. As an everyday item, that you both use and display, you'll get your money's worth out of them, so don't hesitate to pull the trigger and invest in a pair of higher-quality hand towels.
Project 62 Glass Jar Lavender and Eucalyptus Candle
I don't think we need to convince you of the calming aesthetic and scent of candles. Just do yourself a favor and stock up. You'll have the stench of your kid's soccer cleats and your partner's dirty laundry stifled in no time. Target's candles come in a variety of sizes and scents, so go crazy.
Pillowfort Multi Stripe with Tassels Shower Curtain
A white shower curtain will brighten up your bathroom and make it feel bigger; however, if the idea of a pure white shower curtain haunts you, opt for this multi-stripe liner instead. The stripes alternate between different shades of blue, yellow, and red.
Threshold Ribbed Foaming Glass Soap Pump Clear
Redecorating on a budget? For just $15 you can transform your kitchen or bathroom sink with this textured dish soap dispenser. It's that easy.