He's Just Ted! Mattel Releases Three Ted Lasso Barbie And Ken Dolls
Please excuse us while we update our Christmas list.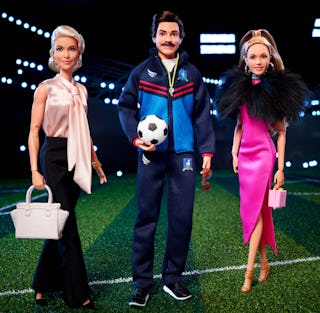 We may receive a portion of sales if you purchase a product through a link in this article.
Ted Lasso might be pretty well over as far as the streaming television show is concerned, but what if we could continue the uplifting and heartfelt story of everyone's favorite football team ourselves? Now's our chance, because on Tuesday Mattel released a new collection of Ted Lasso Barbie and Ken dolls. And they are so good.
Alas, no luck for Roy Kent, Jamie Tartt, Nick Mohammed, and Coach Beard fans, at least just yet.
Each doll, which is part of the Barbie Signature collection and collaboration with Warner Bros. Discovery Global Consumer Products, is $50. The dolls ship on or before November 10, so you can indeed get them in time for the holidays, though there's a limit of two of each doll per order.
First up, we have the titular Ted Lasso doll, which comes complete with his aviator shades, a whistle, and of course a soccer ball and a mustache. He's wearing a track suit, and his collector's box includes and AFC locker rook background. Also... it really looks like him. Good job, Mattel!
Next up is team owner Rebecca Welton, who is of course played by the amazing Hannah Waddingham in the show. While I am personally offended this doll is not six feet tall in heels, it's still a really wonderful portrayal of everyone's favorite biscuit-eating business woman. She's dressed to the nines in a satin blouse and powersuit, which is finished off with statement earrings, black pumps, and a designer handbag.
Finally, former model and current PR maven Keeley Jones rounds out the three-doll collection, and she's looking just as fabulous as she does on the show. She's dressed in a hot pink calf-length dress, a faux fur cape, and gold heels. While her accessories include gold hoop earrings, and a tiny pink clutch. It's all finished off with her high ponytail, of course.
Following the enormous success of the fun and feminist Barbie movie this summer and the enormous success of Ted Lasso's earnest feel-good series over the past few years, this collection seems like a match made in heaven. Mattel keeps hitting them (kicking them?) out of the park.