FYI, Walmart Now Has A Huge Selection Of Dolly Parton Party Supplies
This is the best excuse ever to throw a party.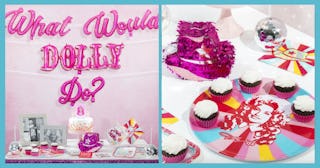 Walmart
We may receive a portion of sales if you purchase a product through a link in this article.
Who loves Dolly Parton and parties? This one goes out to you. Walmart, which has recently shocked us with their suddenly cute and affordable clothing, is once again bringing us life with a huge selection of Dolly Parton party supplies, and they are so cute and fun.
I was tipped off to this by TikToker Kayla Serota, who posted about the items (with "9 to 5" playing in the background of course) and quickly went viral, with over a million views.
"RUN TO WALMART! The cutest Dolly Parton party supplies and home decor," she wrote in her caption.
And she's right. By my count, there are about four dozen new Dolly items on Walmart's website, and a ton of them are so cute that I'm trying to think of an excuse to party.
First up, we have to talk about the balloon arch and "What Would Dolly Do?" balloon banner — both of which would be a great centerpiece for a celebration — and both of which come at prices that any country girl would appreciate.
The collection also includes smaller sparkling pink fringe banners, Dolly-themed reusable vinyl stickers, and a bright pink sash that says "Backwoods Barbie" in case you're celebrating a special birthday person or bachelorette.
And no party is complete without a themed piñata; this collection includes a purple cowgirl hat version with a silver band and star.
As far as flat wear and table decorations go, there's a ton. You can choose between three different paper plate designs: a disco ball wearing a cowgirl hat, a "What would Dolly Do?" plate, and a square plate with a guitar and flower motif.
You can pair these with napkins that say, "Y'all need Dolly," silver cowboy hat napkins, an iridescent "What Would Dolly Do?" tablecloth, and Dolly Parton-themed wooden cutlery.
For drinks, you can buy a Dolly Parton pink tumbler, a disco ball tumbler, a fun straw and coaster set, and a fun happy hour kit.
It also covers other party accessories, like two cute plastic platters for snacks or cupcakes, a dessert kit that comes with themed cups and spoons, and a pair of novelty party glasses that have cowgirl hats right on the lenses.
These would be so cute for a kid birthday, adult birthday, or baby shower — sometimes the decoration idea comes before the party idea.
See everything in the Dolly Parton party collection here.