'SNL' And Kate McKinnon Pay Tribute To RBG In Season 46 Premiere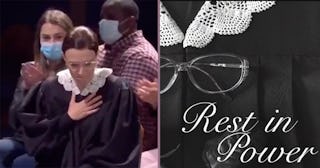 SNL/NBC
Plus, Maya Rudolph as Kamala Harris gave Megan Thee Stallion and Cardi B's song 'WAP' a whole new meaning
For the Season 46 premiere of Saturday Night Live, the show minimized Zoom and made its way back to 30 Rock for an episode we won't soon forget. Not only did the cast and crew perform — for the first time since the onset of the pandemic — live in front of a masked studio audience comprised of first responders, but the premiere's best moments celebrated, advocated for, and paid tribute to women. Let's start with SNL's quick, lovely tribute to the late Ruth Bader Ginsburg.
In a blink-and-you-might-miss it moment, SNL's Kate McKinnon, who has played the late Supreme Court Justice since 2012, donned the white-collared black robe one last time in a classy, touching tribute. An image with the words "Rest in Power" over a white rose, a robe, and a pair of glasses then appeared on-screen. It was a tribute that brought a tear to everyone's eye.
Next, we have to talk about the return of Emmy award-winning Maya Rudolph as Democratic candidate for Vice President, Kamala Harris. In the cold open, which parodied the debacle that was the first presidential debate and gave us our first taste of Jim Carrey as a fiery Joe Biden, Rudolph as Harris stepped in to get the guys in line.
In Rudolph's best stern-teacher voice, she first told Alec Baldwin's Trump to "not treat my Joe like that. He's a nice boy." When Carrey's Biden attempted to take the reins, Rudolph quipped, "Joe, let mamala go to work."
And then it happened: Rudolph gave us the one-liner we've craved all election season: "I think if there's one thing we learned tonight, it's that America needs a WAP: Woman as President." Boom! "But for now, I'll settle for HVPIC: Hot Vice President in Charge." Dead.
The audience — and Twitter — went wild.
Of course, how could we forget Megan Thee Stallion's powerful performance as musical guest? For her first song, Megan delivered a politically charged performance of her hit "Savage," during which the words "Protect Black Women" appeared on the screen behind her.
About mid-way through the song, Megan and her dancers stood at attention as the voices of activist Tamika Mallory ("Daniel Cameron is no different than the sellout negroes that sold our people into slavery") and Malcolm X ("Who taught you to hate yourself from the top of your head to the soles of your feet?") could be heard. Mallory's quote called out Kentucky Attorney General Daniel Cameron over his handling of Breonna Taylor's death. While a grand jury did indict a former Louisville police officer in late September for wanton endangerment during the raid, no charges were announced against the other two officers who fired shots — and no one was charged for causing Taylor's death — in the case presented by Cameron's office.
"We need to protect our Black women, and love our Black women," Megan Thee Stallion, a victim of gun violence herself, then said during her "Savage" performance. "Because, at the end of the day, we need our Black women. We need to protect our Black men and stand up for our Black men because at the end of the day, we're tired of seeing hashtags of our Black men."
SNL airs live coast-to-coast Saturdays at 11:30 p.m. ET/8:30 p.m. PT on NBC.