SNL Gives Oscar The Grouch A 'Joker' Inspired Origin Story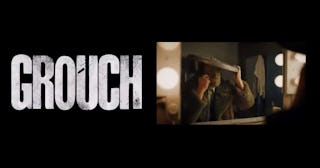 Youtube
Saturday Night Live has transformed Sesame Street into a dark Joker-inspired underworld
Sesame Street is one of the most family-friendly places on earth. But imagine a world where even the fun-loving, beacon of light, laughter-filled neighborhood was enshrouded by the darkness of a Marvel/DC comics underworld. Because the writers at Saturday Night Live are bona fide geniuses who literally have us peeing in our pants laughing every Saturday night, they have reimagined the Sesame Street crew in the darkest, grittiest way possible, giving trash-bin dwelling Oscar the Grouch a Joker inspired origin story.
We are introduced to a garbageman named Oscar, played by Stranger Things star David Harbour, a grouchy man clearly tormented by his role in the world.
"From the studio that brought you Joker and the twisted minds at Sesame Workshop comes the next gritty origin story," the trailer's narrator explains about the film, supposedly directed by Todd Phillips and the writer of "P Is For Potty."
"The once friendly neighborhood of Sesame Street has now become a haven of crime and corruption," declares Guy Smiley, commentator of ABCDEF News in the trailer for the Todd Phillips directed film, Grouch. The neighborhood is now filled with "hookers and pimps on every corner," explains Oscar, who watches Ernie die in Bert's arms after being stabbed in a rubber ducky robbery. "How does that make you feel?" a therapist asks Oscar, to which he replies, "Grouchy."
"If everybody calls you trash, and everyone treats you like trash, why don't you become trash?" he says to the camera as we see him transform into a green, dirty creature, then crawl into a huge trash bin.
We then get to see what has happened to the rest of the Sesame Street crew. Big Bird is a stripper, Count Dracula is addicted to opiates, Cookie Monster is homeless (and begging for cookies, of course!) and Elmo, a woman, is a junky. Being tossed in a police car and getting arrested, she declares her innocence to the officer. "Elmo didn't smoke no crack," she pleads to him. "You only arrest Elmo because Elmo is Mexican!" They even managed to make the Sesame Street theme song macabre and creepy.
Other highlights of the incredibly clever skit include Oscar recreating the scene from Joker where he creepily dances on the stairs, Oscar shooting a gun, and Big Bird getting schooled by her pimp. Would you do me one favor? Would you call me the Grouch?" he says at the end.
While the skit was obviously over the top in typical SNL fashion and poking fun at the recent controversy surrounding Joker, it honestly couldn't have been funnier. And, we, along with most of the people on social media, wish it were an actual movie.
If you haven't watched it yet, you are truly missing out on life. However, maybe wait until your kids aren't in the room!
This article was originally published on