11 Soccer Coloring Pages Your Mini Mia Hamm Or Little Cristiano Ronaldo Will Love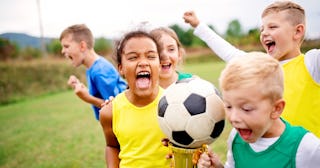 Halfpoint Images/Getty Images
Do you ever find yourself shuttling your kids from one soccer game to another, wondering when and how you became a soccer mom? Even if you're not technically a soccer mom (yet), soccer is an exciting sport that many kids love to play — whether with friends or in an extracurricular league. Of course, this sport's not just for kids. Soccer is played by 250 million players in over 200 countries, making it the world's most popular sport. Can you think of a better reason to spend an afternoon or two with some soccer coloring pages?
Before we kick things off, though, we want to share a few interesting facts about soccer you can pass along to your little one. In other countries, such as Australia and the U.K., soccer is called "football," which is logical since it's a game that involves kicking a ball around with your feet. OK, there's a little more to it than that (but that's kind of the main thing). There are 11 soccer players on each team, including one goalie. Those players spend the game trying to kick a ball into the opposite team's goal. At the same time, they must defend the ball from getting close to their goalie. All of this takes place on a soccer field, which is known as a pitch. And that's pretty much it!
It's a fun and easy game that keeps kids active. Bonus? It requires little in terms of equipment. If your kid is interested in soccer or is already a mini Mia Hamm or Cristiano Ronaldo, they'll love to print out and color these super-cute soccer coloring pages.
Free Soccer Coloring Pages
Soccer No. 1
There are 11 positions on one soccer team. They include goalkeeper, center back, sweeper, fullback, wingback, center midfielder, defensive midfielder, attacking midfielder, winger, forward, and striker. Fun fact: The largest soccer stadium in the world is The Rungrado First of May Studium in Pyongyang, North Korea. It can hold up to 150,000 people! Can you imagine the crowd?
Soccer No. 2
Women's soccer started to become more popular in the 1990s, perhaps hitting its pinnacle in 2019 when the U.S. won the World Cup for the fourth time. However, women started playing soccer around the same time as men did way back when it first started in England around 1863.
Soccer No. 3
There are a few cool soccer tricks and moves that players can learn to help beat defensive players quickly, and it looks like the little guy above here is doing one of them. These moves have some fascinating names, including Inside Touch, Scissor, Diagonal Cruyff, and Elastico.
Soccer No. 4
Goalies don't just keep the ball out of their net — there are a few special rules they need to follow. For example, goalies must wear clothing that is different from the jerseys worn by the other players. They also have only six seconds to pass it to another player once they have the ball in their possession, and they can't use their hands if the ball gets kicked back to them by a teammate.
Soccer No. 5
The most prestigious soccer competition is The FIFA World Cup, often shortened to the World Cup. It takes place every four years, with the first held in 1930. To date, there have been 20 World Cup tournaments. And, boy, do fans like to watch! The World Cup is one of the most-watched sports tournaments globally, accounting for a total of 3.5 billion people (almost half of the world's population) tuning in to watch the 2018 World Cup. And speaking of the World Cup, the first trophies were papier-mâché. However, it was replaced after a rainy championship in 1950. And did you know that only eight countries have won the Soccer World Cup so far?
Soccer No. 6
A soccer player's uniform (and gear) is called a "kit." It includes a jersey, shorts, socks, cleats and shoes, and shin guards. Goalkeepers often wear gloves, too. When it comes to soccer, no one really knows when it was invented, but it dates back more than 3,000 years. The earliest game that somewhat resembled soccer goes back to the Han Dynasty, which was from 206BC to 220 AD. It was a Chinese game called cuju. Fun fact: Did you know, famous soccer player, Cristiano Ronaldo opened up a museum in 2013 and dedicated it to himself?
Soccer No. 7
Although there isn't anything wrong with a bit of healthy competition, kids relish playing soccer more when its focus is encouragement, enthusiasm, teamwork, and enjoyment. And just in case it wasn't obvious, soccer is the most popular sport in the world (or should we say football?). More than 55 percent of soccer balls are made in Pakistan.
Soccer No. 8
Soccer balls aren't just for kicks! A lot of soccer players also like to juggle soccer balls. Granted, it takes a lot of practice — but it is a cool trick worth trying. Fun fact: Soccer was illegal in Mississippi until 1991. And early soccer balls didn't always look the way they do now. They were fashioned out of animal skins, skulls, and even pig bladders.
Soccer No. 9
The team with the most Olympic soccer wins is the U.S. Women's National Team, having won four out of five possible gold medals (and one silver medal!). Did you know soccer referees weren't used in matches until 1881? Before then, players had to make their own calls.
Soccer No. 10
U.S. Youth Soccer registers more than three million players annually, ages give to 19. Will your little one be next?
Soccer No. 11
Is your kid a big David Beckham fan? Did you know that when he was just 11 years old, he won the Bobby Charlton Soccer School National Skill competition? As a result, he was given a trip to Barcelona and gained interest from a Manchester United soccer talent scout! The rest is history.
Click here to print all of the soccer coloring pages at once!
This article was originally published on