Mike Pence Roasted For Literally Naming Space Force After 'Guardians Of The Galaxy'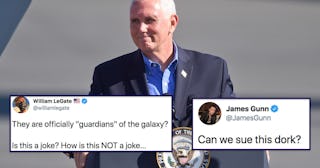 Ben Hasty/MediaNews Group/Reading Eagle via Getty Images
Space Force members are apparently now called 'Guardians' (like the Marvel movie) and Twitter did not take this laying down
Space Force, the sixth branch of the U.S. Armed Forces, was established by Trump in 2019, who called it the "world's newest warfighting domain." But members of Space Force never had a name associated with their position like soldiers, airmen, or sailor — until now.
Vice President Mike Pence announced yesterday that the long wait was finally over. After a year (that's 365 days) of pondering a moniker, Space Force members shall hereafter be referred to as "Guardians." If you're thinking, "Gee, that has a familiar ring to it," it's because it does — and Twitter made sure to weigh in on the obvious swiping.
"It was my honor to announce today, that the men and women of the Space Force will be known as GUARDIANS!" the Vice President announced on Twitter, using the hashtag #SemperSupra or "Always Above," and a symbol right out of Star Trek. As word spread, anyone familiar with the beloved Marvel film Guardians of the Galaxy (so, everyone) began chiming in.
Naturally, Twitter chimed in.
Of course the writer and director of Guardians of the Galaxy, James Gunn, had to get in on the conversation not once, but twice:
Gunn is set to return to the Guardians franchise with the upcoming Vol. 3, which star Dave Bautista says will go into production "late next year."
In a speech at the White House on Friday afternoon commemorating its one-year anniversary, Pence made the announcement, saying the Guardians would "ensure that America remains as dominant in space, and from space, as we are on land and sea and air."
He continued: "We just returned from the Oval Office and so it is my honor, on behalf of the President of the United States, to announce that henceforth, the men and women of the United States Space Force will be known as guardians."
Guardians is a name "with a long history in space operations," the Space Force said of the choice, "tracing back to the original command motto of Air Force Space Command in 1983, Guardians of the High Frontier.'"
"Proud to announce I will be a Space Force Mess Hall Guardian," tweeted Guardians of the Galaxy screenwriter Dan Hernandez. "Such an honor to be selected to test all space food."
The term "guardians" isn't the only Space Force news this week that Pence has revealed. He also announced earlier this month that Florida's Cape Canaveral Air Force Station and Patrick Air Force Base will be renamed Space Force stations.
It seems fitting that on its way out, the Trump administration would pilfer from those around it without offering much in the way of creativity. It did, after all, begin in much the same way with the First Lady stealing directly from Michelle Obama. Is anyone really surprised?