These Bestselling Swimsuits Have A Cult Following On Amazon — And They're All Under $35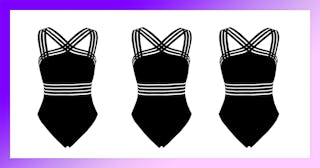 Amazon
Try one (or more) of these super flattering swimsuits from Amazon this summer.
Buying a swimsuit in-store probably doesn't top your list of fun things to do. The unflattering dressing room lights, funhouse mirrors, and sales associates asking if "everything's ok" while you stare into the mirror and try to remember when you last shaved above your knee are all reasons why it's best to shop for such things at home. So it's a good thing Amazon has tons of super cute and women's bathing suits at incredible prices that you can order and try on in the comfort of your own home. And whether you're on the hunt for a chic one-piece swimsuit, a high-waisted bathing suit (aka, a fresh take on the tankini), or trendy swimwear that comes in plus-sizes, we — and Amazon — have your back.
RELATED: 11 High-Waisted Swimsuits We're In Love With
So, we rounded up some cute bathing suits that are highly-rated, sexy, and flattering for all. Bonus? Nearly all of them are under $30, so feel free to buy more than one. Grab one (or a few) of these super-flattering swimsuits in modern cuts, then consider stashing your bathing suit cover 'cause you'll be feeling cute and confident by the water this summer. Needless to say, these Amazon women's swimsuits may be mom-approved, but they're not your mother's swimwear.
RELATED: The Best Maternity Swimsuits To Flaunt Your Baby Bump
Best Affordable Swimsuits on Amazon
This article was originally published on