'Christmas Vacation' Fans Can Now Own A Ceramic Replica Of The Griswold House
by Julie Scagell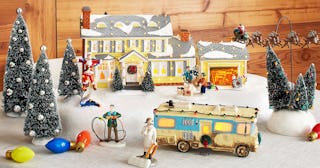 Macy's
If I woke up tomorrow with my head sewn to the carpet, I wouldn't be as surprised as I am to find out you can buy an entire Christmas Vacation village on Amazon this holiday season. The collection has all of the famous moments memorialized in ceramic so when you aren't watching it (again and again) on TV, you can enjoy it on a shelf near you.
National Lampoon's Vacation franchise are iconic films that gifted us with characters like Cousin Eddie, Todd and Margot, Aunts Bethany and Edna, and of course, all of the Griswolds. But National Lampoon's Christmas Vacation seems to stand out from the rest because it centers around the chaos of the holidays and the ups and downs of spending so much family time together. Now, thanks to Amazon and Department 56, we can have our own little slice of the movie to cherish forever with their Nation Lampoon's Christmas Vacation Village Collection.
Once you see the entire collection, it is impossible to pick a favorite piece because they remind you so much of one hilarious scene after another. Regardless of which ones you choose, you'll be the talk of every (virtual) holiday party. The pieces range in prices from low to high, so they're an investment for sure. But, considering all the movie has given us over the years, I'd say it's an investment worth making. Get your National Lampoon's Christmas Village in time for Christmas Day!
Of course, if you're gonna purchase the RV, you really need Cousin Eddie himself — and what better figurine to represent him than the "Merry Christmas. Shitter's full" pose? All we need is another figurine of Todd's face seeing Eddie in all his glory to really make it complete.
To find the best gifts for Christmas Vacation fans, check out our gift guide here!
This article was originally published on