These Tech-Forward Baby Scales Will Help Track Your Little One's Growth (And Give You Peace Of Mind)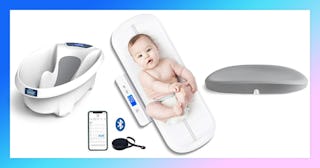 Amazon
Baby weighing scales help track your LO's growth — one of the biggest joys of early motherhood amidst the sleepless nights and the exhausting days. And Mama, do they grow fast. In fact, in those first six months alone, the average baby more than doubles their birth weight. Sure, your little one will be weighed at each pediatrician's visit, but if you're like most moms, you'd prefer the reassurance of seeing that number tick up day by day in the comfort of your own home. In fact, you can also gauge how much breastfed babies are drinking by weighing them before and after feedings. Yes, infant scales come in handy, so consider adding one to your baby registry or your current baby gear collection if you don't have one already.
The best baby scales don't just track weight, like the adult kinds do. Some are incorporated into everyday products you use for your baby, such as a changing pad or an infant bathtub, and many can be used all the way through toddlerhood. This not only saves you space in your baby's already-tiny nursery, it also makes checking their weight a little more practical (i.e. if you're going to struggle through a tub sesh with your squirming peanut, you might as well check their weight while you're at it).
No matter your style, needs, or budget, here are the best baby scales on the market that moms are loving in 2021.
Best Baby Scales For Infants & Toddlers
Best Multitasking & Smart Baby Scales
This article was originally published on