The Best Baby Shampoos For A Tear-Free Bath
by Zlata Faerman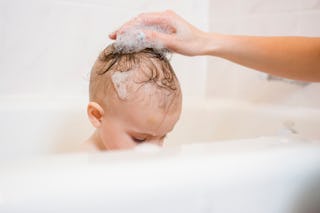 JGI / Jamie Gril / Getty Images
Baby bath time can be stressful — the tubs are tiny, the baby is wet and squirmy, and who even knows what's growing inside the bath toys. Fortunately, when it comes to picking the best baby shampoos, there are many products on the market that make the whole routine a bit easier. Yale-trained pediatric dermatologist Dr. Britt Craiglow is a big fan of wash and shampoo 2-in-1 combos for babies because "there's no real need for separate products." And let's be honest — life with a baby is hard enough! She also says that "many regular baby shampoos can be useful for cradle cap, but some contain ingredients specifically targeted to treat it, such as zinc pyrithione." This inhibits the growth of yeast, which she says is an important factor in the development of cradle cap.
If your little one has a crusty scalp, here's what you need to know about cradle cap (seborrheic dermatitis). It may be caused by excessive oil production by the skin glands. While it can be concerning, it's not a serious medical condition and will go away in time and with care. Dr. Craiglow says, "Most cases of cradle cap will resolve even without specific treatment, but if it seems particularly severe or uncomfortable, visit your pediatrician because in some cases prescription shampoos and topical steroids are needed."
Here are our top picks for the best baby shampoo and cradle cap shampoo, and they're all conveniently on Amazon. Now just add an Instagram-ready baby bath towel, and you're ready for bath time.
Best Baby Shampoo
Best Cradle Cap Shampoo