12 Best Gifts & Toys For 10-Year Old Boy & Girl Who Already Has Everything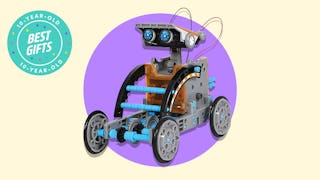 If you think buying a gift for a 10 year old is tough, try being a 10 year old. They're so not a little kid anymore, but really not a pre-teen. They are imaginative and curious but also stubborn and independent. Buying a birthday gift for a 10 year old boy and girl can be tricky, but they'll probably like it more than they let on. Do they love to read? Think mystery books. Do they secretly enjoy puzzles? Go for 3D puzzles. There are even board games perfect for a 10 year old boy or girl. Buying a 10 year old birthday present, or coming up with gift ideas for a 10 year old boy or girl who has everything, can sound daunting, but remember— all kids love getting gifts!
"At the age of 10 years, children are really beginning the transition into adolescence but are young children in heart and mind still," Dr. Syeda Amna Husain, M.D., FAAP, of Pure Direct Pediatrics told Scary Mommy of the unique developmental dichotomy experienced by children at this age.
Of course, we were all 10 at some point, but as we grow up, it can be difficult to remember what it really felt like. You know, 20, maybe even 30 years ago.
"Open communication is very important between parents and the child at this time as the social pressures to fit in begin, along with increasing schoolwork and piling extracurricular activities," Dr. Husain explains.
TL;DR: It's tricky being 10. And, as such, your 10 year old might be a tough nut to crack when it comes to picking out the perfect present.
With this in mind, we picked the brains of Dr. Husain and several other experts to find the toys, games, and kids more best-suited for 10 year olds — gifts that both adults and kids will love since they are geared specifically toward this age of development.
For more gift inspo, check out our toys for 1 year olds, 2 year olds, 3 year olds, 4 year olds, 5 year olds, 6 year olds, 7 year olds, 8 year olds, 9 year olds, 11 year olds and 12 year olds.
Science Kits for Big Kids
"At this age, children can think more abstractly and form more organized thoughts. Their attention span is longer, and they're able to work for long periods of time on activities they enjoy," explained Dr. Husain. "For this reason, I think toys like science kits for your science buff can be a great addition."
Arts & Crafts for Big Kids
"It's important to help your child develop creative outlets to cope with the emotional feelings that are intensified," Dr. Chaye Lamm Warburg, DPS, OTR, and founder of Pediatric Occupational Therapy Services, LLC told Scary Mommy. So, Dr. Warburg recommends gifting your 10-year-old with arts and crafts projects such as origami, woodworking, tie-dying, jigsaw puzzles or, really, anything that gives them an outlet for their emotional energy.
Board Games for Big Kids
"Children at this age also do well with goal-oriented activities, so board games are good toys that the whole family can enjoy. I'm always a fan of bringing back family game nights!" said Dr. Husain.
Coding Kits & Toys for Big Kids
"The key at this age, developmentally, is the right level of written instructions — and the incentive to follow them to complete a high-interest project is just as key," explained board-certified child educator and teacher Nancy Poznansky. Foster this with a gift that teaches coding, so that your kid gets to see how cool the results can be when you follow directions (i.e. watching a robot retrieve cubes).
And if you want to really impress the kiddo you're gifting, consider an Amazon STEM Club toy subscription and select the 8-13 age option. This subscription features gifts handpicked by toy experts, designed to inspire future engineers and scientists. Each mailer will include toys that highlight principals of physics, chemistry, and engineering! It costs $19.99 per box and you can cancel at any time.
Gifts for Big Kids That Encourage Empathy & Understanding
"At 10, children become much more aware of the wider world and social responsibilities. They are less cynical than teenagers but will be clear-sighted and see through something that is phony or unrealistic," shared Presidential Award-winning child educator Nino from Rainy Day Sunny Play.
RELATED: Best Tie Dye Kits For Bored As Hell Kids & Moms (+How To DIY Tie Dye)
Outdoor Toys and/or Sports Gear for Big Kids
"Tweens tend to be sedentary as academics become more serious and time-consuming, so intentionally integrate physical activity and nature into their weekly routines, either alone or with friends," Dr. Warburg told us. "Try to incorporate aerobic activity, muscle strengthening, and bone-strengthening activities. Activities in nature have mental health as well as physical benefits."
Once the 10-year-old in your life is all set on gifts, check out more toys for all ages!
This article was originally published on