Hyaluronic Acid Will Make You Look Younger And Dewier By Tomorrow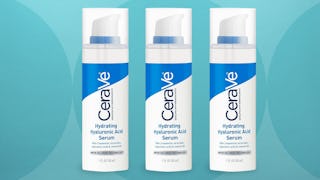 Sick of dealing with dry, dull AF skin, mama? SAME. As you age, your skin loses its elasticity and natural perkiness, but don't fret! Besides limiting your amount of sun exposure (or making sure to lather on the SPF), you can also seek out certain beauty products that work like a charm to turn back signs of aging. If it's not already on your radar, then hyaluronic acid is about to become your new BFF.
Hyaluronic acid is one of those secret ingredients that you've probably seen touted on tons of serums, moisturizers, and other bottles of beauty products all over your local Sephora. But, what IS it and how can "acid" actually be beneficial for your skin? Look younger and fresher by morning with the best hyaluronic acid beauty products, from drugstore steals to splurgy options.
What is Hyaluronic Acid?
It's not really ACID acid, it's actually the chief glycosaminoglycan in your skin, which means it's a naturally-occurring substance that helps keep your skin and tissues well lubricated and moist. It's also a humectant—a category of skincare ingredients that draw moisture from their surroundings and can help boost hydration in the skin.
What's so great about it?
Because it's able to hold so much water, it can make your outer skin layers look and feel softer, smooth, and super hydrated. That INSTANTLY improves the appearance of fine lines and wrinkles. If your wrinkles are cracks in your foundation, think of hyaluronic acid as calk. In fact, it's used as an injectable filler too!
Okay, I'm in. How do I use it?
Hyaluronic acid is one of the best ingredients you can find in your serum or moisturizer. Along with its sister ingredient sodium hyaluronate—which is basically a salt form with a smaller molecule size—it also works with other superstar ingredients to create products that can really help aging skin and prevent further wrinkles.
Best Products with Hyaluronic Acid
Ready to take your skincare regimen to the next level? Peep these mom-approved beauty must-haves that deserve a spot in your makeup bag.
This article was originally published on