8 Best Makeup Brushes Loved By Beauty Experts (Plus Tips On How To Clean Them)
by Yelena Moroz Alpert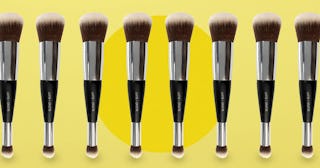 We'd never say that you're not a pro when it comes to doing makeup, but the pros might agree that you're missing the right tools in your makeup kit. For instance, the swab-like applicator that came with your eye shadow isn't doing you any favors. "Never attempt to do a full makeup look with makeup applicators instead of full-size brushes," warns Tomy Rivero, New York-based makeup artist known for his Fashion Week looks. "The applicators are too small and dense, and always create weird shapes and pick up too much product. They mark the face instead of blending into the face."
Think of it this way, if you decided to learn watercolor, you wouldn't use the same brushes from your toddler's paint set, right? The same goes for the best makeup brushes worth buying.
A good brush does the work for you because each brush is cut and angled in such a way that even a clumsy makeup novice (umm, hi!) can figure it out. Armed with the right tools, facing yourself in the mirror will feel a little less intimidating.
Once you stock up, do yourself a favor and clean makeup brushes weekly (unless you have very oily skin, then you might want to add an extra wash mid-week). Dedicate a glass bowl to washing makeup brushes, then add a drop of Dawn dish soap and swirl to clean synthetic and vegan brushes. For busy moms, Rivero suggests bringing makeup brushes with you in the shower and cleaning with shampoo, as long as it's not for color-treated hair. Either way, once you thoroughly rinse the makeup brushes with clean water, squeeze the excess water without pulling on the bristles and lay flat on the edge of the counter overnight. You want the bristles to dangle over the edge so air circulates all around the brush, drying the makeup brushes completely.
With Rivero's tutelage, we found the best makeup brushes—from brushes with antibacterial properties to eco-friendly bristles.
Best All-Around Makeup Brush
Best Budget Makeup Brush
Best Makeup Brush for Looking Polished
Best Makeup Brush to Make Eyes Look Less Tired
Best Blush & Bronzer Makeup Brush
Best Finishing Makeup Brush
Best Portable Makeup Brush
Since we know you're looking for more ways to simplify your self-care routine, check out our other beauty essentials.
This article was originally published on