Amazon's Best Rain Boots For Less Than $30
by Rachel Aschenbrand-Robinson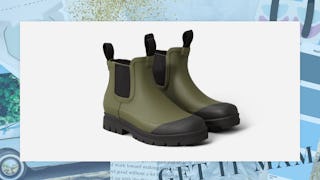 Once upon a time, rain boots were designed to keep your feet dry–case closed. On wet days, you sucked it up, threw on bulky, waterproof boots and that was that. These days, thankfully, finding the best rain boots doesn't have to mean you have to wear something ugly, or something that does not go with your outfit. Somewhere along the way, fashion caught up to function, and now we've got options–lots of cute, comfy, puddle-proof options–and just like that, gloomy weather doesn't seem so…gloomy.
RELATED: The Best Snow Boots For Toddlers, Because Winter Is Coming
From classic tall wellies to chic Chelsea-inspired ankle boots ranging in jewel tones solids to playful prints, there are rainwear options for all wardrobes–and all types of environments, actually. Some are built to stand up to a variety of elements and rugged terrain, some are better for colder climates, while others are best for spring showers or flatter, urban settings. And none of them will have you slippery shoe syndrome, you know what we're talking about. Of course, fit is a factor, too: Whether you're searching specifically for rubber boots for women, for the best pair for narrow feet, or the best rain boots for wide calves, we've got you–and your feet–covered. You may even find yourself wearing yours when it's not wet out–or at least wanting to.
Depending on where you live, this type of footwear can range from an everyday essential to a seasonal necessity. We've done the research and found the best, most beloved rain boots and shoes to shop now.
Best Rain Shoes For Women
Best Classic Tall Rain Boots
Best Chelsea Rain Boots
Best Durable Rain Boots
Best Waterproof Sneakers
Best Rain Boots for Wide Calves
Best Ankle Rain Boots
Best Slip-On Rain Shoes
Best Lightweight Rain Boots
Best Printed Rain Boots
Scored your perfect pair for rainy days? Check out more stylish (and functional) fashion finds!