8 Best Exfoliators To Give Dry, Tired Skin A Warm Summer Glow
by Steph Osmanski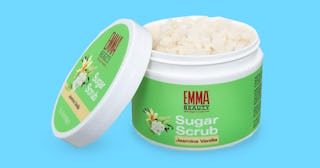 When you're juggling an active AF toddler, wearing an infant a la baby carrier while making a TikTok, and also trying to cook sustainably and healthfully for the whole family, it can be difficult to care for yourself. In fact, we know firsthand that most of you parents put yourselves last — like, we're talking in the hierarchy of things it's 1) the kids, 2) your partner, 3) the pets, and then (maybe!) you treat yourself just a smidge.
Moms, you deserve self-care, too, so take back your skincare routine by giving yourself a little exfoliating TLC. While most moms don't have time for a full-blown, six-step skincare routine — we're talking mask, cleanse, exfoliate, tone, moisturize, jade roll, etc. etc. etc. — we just need to find a few minutes to rub on an exfoliating scrub for the sake of our skin. After all, how can you change and grow into the mom you're becoming if you don't shirk off those dead skin cells dragging you down?
As you more regularly exfoliate, you might notice a few positive results: brighter and overall, healthier-looking skin. All it takes is the right exfoliating product — for your face, body, or even your lips! — and you'll be glowing a little more brightly from head to toe.
Skin exfoliated to perfection? Now, check out more beauty must-haves!