10 Superhero Costumes For Kids To Give Them Powers On Halloween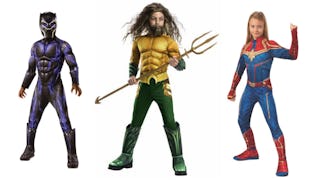 Maybe it's because cheap polyester is comfortable AF, or maybe it's because your child actually thinks bionic half-human, half-insects are the sh*t. Either way, superhero costumes for kids have never seen a decline in sales, and 2019 will be more of the same. I mean, is it just us, or is Marvel cranking out more movies than boomers did babies, as of late? Combine all-Avengers-everything, with DC comics trying to keep their numbers up at the box office, plus Pixar cartoons rockin' superpower spandex suits and superheroes are clearly taking over the goddamn universe.
RELATED: 16 Adorable Baby Halloween Costumes You Can Buy Online
But here's the thing, Mom: It doesn't really matter if we think superheroes are totally lame, or if you hate Spiderman with every fiber in your body because now your kid thinks if it gets bit by a spider they'll be able to scale walls. Personally, I don't even think Batman is really all that badass; the way I see it, he just kind of comes off as an asshole with anger issues in a black ski mask and matching cape.
And, sure once upon a time, superhero stories were a little silly and far-fetched. But the superheroes of today aren't just fictitious characters with the ability to throw buses or shoot webs from their fingertips. Each and every superhero — even the pixelated kind — is a role model in their own right. They teach your child to be both mentally and physically strong, to push boundaries, to stand up for what they believe in.
Now, wouldn't you rather your little one pose as that kind of superhero, over, say, the guy in a striped shirt who turns dreams into nightmares, or, even worse, a baby shark that sings the same three damn words over and over again?
I would.
Applaud your little Avenger when she plucks this superhero costume off the shelf, Mom because Captain Marvel isn't just superhuman, she's an incredible role model for little girls with big dreams. Even President of Marvel Studios, Kevin Feige, has gone on-record to proclaim Carol Danvers, AKA Captain Marvel, as the most powerful superhero in the Marvel Universe, surpassing legends like The Hulk, Wolverine, and Black Panther in the ranks.
RELATED: This Is The Ultimate Halloween Idea Guide Of 2019
When Black Panther came on the scene, both comic book aficionados, and non-readers alike, flocked to theaters. There, viewers were introduced to the first superhero of African descent in mainstream comics and film, as well as the Dora Milaje, a core group of badass women, who, with their king, worked to defend their home of Wakanda. The story of the Black Panther celebrates black culture and displays it in every costume. Rubie's Deluxe Black Panther Child's Costume is an immaculate replica of costume designer, Ruth E. Carter's vision.
Faster than a speeding bullet, Pixar's own Dash Incredible is GenZ's bite-size version of The Flash. Luckily, simply slipping into DISGUISE's Dash Incredible superhero costume won't give your kid super-speedy powers. Those kick in once they start dipping into their candy stash (so, first-time mamas beware). This superhero costume for kids is rated highly for quality and comfort, so don't be surprised if your little crime fighter can't fight sleep in this getup. It's practically pajamas, anyway.
Don't tell DC, but 2019 is a Marvel World, and we're just living in it. Among the most iconic superheroes to date is Captain America, AKA the OG Marvel superhero that kicked off the franchise. This Captain America Costume Deluxe is especially great for kids who like to really get into character; any roughhousing will be buffered by the pillowy padding stuffed throughout the ensemble.
Ironman is an iron legend, and Spirit Halloween's Iron Man Costume Deluxe set is just as iconic as Tony Stark's character, minus all the weaponry bells and whistles. There's bound to be a bunch of neighborhood kiddies running around in this superhero costume on Halloween 2019, especially after all of the Avenger's End Game hype. So while it may not be by-the-book to reveal your little superhero's true identity, you might want to come up with a safe word to distinguish one crime fighter from the next.
If all you know about Aquaman is that he's played by McSteamy Jason Momoa, then same. Evidently, the DC superhero has been around since 1941, but Rubie's Dawn of Justice Aquaman Deluxe Child Costume comes straight out of the franchise's 2016 film Batman v Superman: Dawn of Justice. The getup comes fully equipped with muscle padded jumpsuit, emblazoned with a 3D print and bandolier attachment. It even features gauntlets, and boot top shoe covers. Once they're dressed, your little superhero will feel like a legit fish(man) out of water.
If the mere sight of a wasp is enough to make your skin crawl, excellent. That's exactly the effect this superhero's going for (clearly her goals align with those of your child). As far as we can tell, The Wasp is one of Marvel's most underrated superheroes. Her powers include the ability to fly, shrink, superhuman strength, and projection bio-electric string from her fingertips. Fortunately for you, Mom, these superhuman accessories aren't included in the Spirit Halloween's Kids Wasp Costume Deluxe. Your kiddo will just have to make do with an average silver mask and yellow and blue jumpsuit.
If your child thinks arachnids are awesome, introduce them to Marvel's Spiderman. He's one of the few superheroes that really hasn't seen a massive transformation over the years; though, each modern retelling does add its own minor flair to the classic spandex suit. This model features a full-body getup, clad with Peter Parker's spidey logo on the back. Your little critter might not do whatever a spider can (thank goodness), but at least they can look the part.
Spirit Halloween's Captain America Dress challenges the idea that Captain America has to be male (lol no), and looks comfy AF. The majority of superhero costumes for kids feature either skin-tight material or a whole lot of padding. Not this patriotic number. The dress is made with a hint of spandex, but for the most part, the ensemble is made from polyester. In other words, no chafing, no tightness, no whining from the not-so-superhuman kid playing dress-up.
Teach your mini-me who actually invented growl power with this power suit fit for the badass little woman you've been raising since day one. Once your child slips into the all-black jumpsuit, they'll be dripping with confidence. Your little girl will be taking Hershey's and hearts prowling around the streets of Gotham (or, you know, wherever you reside) on Halloween night.
Although we only recommend picks we really love, we may earn a commission on purchases made through links from our site.
This article was originally published on