The 15 Best Toddler Chairs For Keeping Your Kids Comfy— And In Their Own Zone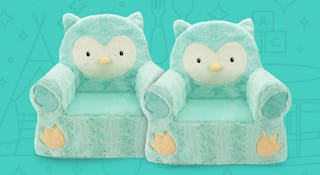 There are plenty of benefits to finding the perfect toddler chair for your kiddo to snuggle up in and read their favorite book. Aside from allowing you to reclaim your personal space or your spot on the couch, or both, a great kids lounge chair keeps your little monkeys from climbing on the adult furniture, thus reducing the risk of arts and crafts stains, slime spots, footprints, and rips. Have we got your attention now? Right, we thought so.
Whether it's modeled after an adult accent chair or emblazoned with cartoon characters like Vampirina, providing your little with his or her own toddler chair will give him or her a sense of value and ownership, and a spot of their own to get excited about that's not on your lap or generally all up in your grill. Especially as we spend more time together at home, there is no understating the value of time to yourself–or just time without the kids glued to you. Between quarantine and homeschooling in the fall, let's just put it this way: Both you and the kids will be thankful for some much-needed time spent apart (err, in the next room away from one another).
When shopping for a kids' lounge chair, there are a few things to consider: Is it lightweight enough that they can transport it to multiple rooms but sturdy enough not to tip over? Will the chair be a spot for watching TV, reading books, taking a nap, or all of the above? Do you want a stylish kids chair that coordinates with your decor or something fuzzy adorned with their favorite Disney princesses (thanks for the reminder Disney+) that will actually motivate them to sit down for five seconds? From the ease of cleaning and assembly to durability to overall aesthetics, there are chairs to suit a variety of needs. We scoured the internet for the best toddler chair options on offer now. Check out what we've found and know they'll love!
Best Character Toddler Chairs for Kids:
Best Bean Bag Chairs for Toddlers and Kids:
Best Adult-Style Toddler Chairs for Kids:
Found the perfect toddler chair for your peanut? Shop more toddler toys they can play with while getting cozy!