24 Special Gifts Big Sisters Can Give To Their Little Sisters
by Jenny Altman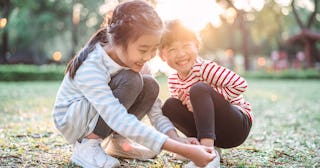 Getty Images/Tang Ming Tung
For every girl who's about to become a big sister, life is about to change in all the good ways. Big sister gift ideas are all around us— they are unique, thoughtful, customizable gifts that make new big sisters feel special, whether they are 2 or 20. The "gift" may be the new bb, but big sis needs to know she will never be loved any less— even with her new LO in the house. The house is about to be filled with more fun, more laughter, more madness. We're here for every second of it. To celebrate the unique special-ness of the occasion, we've got zodiac jewelry, personalized story books, and stuffies that will be cuddled and loved for years. Since sisters will be spending lots of time together, there'll be arts & crafts, LEGO making, and lots of Disney+ watching, of course.
If you aren't sure how to share the big news, the cute-as-pie Crosby Kids can break it down for you. Their squeals of excitement mirror the "I'm going to be a big a sister" screams you'll be hearing on the reg! If soon-to-be big sis feels nervous, or jealous, tell her the story of how Princess Polly becomes a big sister and let them dream of all the things they can teach their new babe. After all, they are the big sis.
And if any of you are feeling nervous with number 2 (or 3 or more) coming, check out J House Vlogs who are welcoming bb #5. They make prepping for their new baby girl look so freakin' easy (we may hate them just a little).
New/First-Time Big Sister Gifts
Big Sister to Little Sister Gifts
Little Sister to Big Sister Gifts
New sister has her gifts, now check out our gift guides for all the other members of the family!