These Black Sneakers For Women Are Sole Cute And Budget-Friendly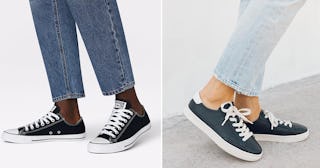 Converse/Soludos
This might be an overstatement, but black sneakers for women are the perfect everyday sneakers. Hear us out: black sneakers practically go with every outfit and have endless styling opportunities. Just like any sneaker, you can choose a black sneaker that offers as much or as little support as you need. There are athletic sneakers, slip-on sneakers, and authentic sneakers like classic Chuck Taylors — all black and all ready to take you where you need to go.
RELATED: The Best Toddler Sneakers For Comfort And Cuteness
Athletic sneakers have a tendency to be bright and colorful, which is great if that's the vibe you're going for. But if you're feeling more neutral footwear these days, you can't go wrong with solid black. Sneakers are a wardrobe essential that can be worn for every occasion — literally anything (not just working out!) — from picking up your kids from school to the office to date night. They're a comfortable, stylish, and trendy alternative to heels, wedges, sandals, etc. I mean, how cool do you look in a midi skirt and a pair of sneaks?!
Below you'll find a list of the best black sneakers for women, including ones made of mesh, leather, and canvas. Whether you're looking for a great pair of black sneakers for a work uniform, athletic wear, or just everyday life — don't worry, we got you.
Best Black Sneakers for Women
Black Leather Sneakers for Women