Good Old-Fashioned Bourbon Gifts For Whiskey Drinkers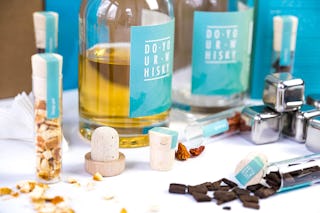 Some essential items from the DO YOUR WHISKY Infusion Gift Set
The best bourbon gifts to get the bourbon lover in your life are, well, bottles of bourbon. But sometimes it's nice to switch things up a bit and go for something more bourbon-adjacent. Not that receiving a bottle of alcohol ever gets old, but there are plenty of other thoughtful, gifts for bourbon lovers you can buy to honor one's love of whiskey. (Check out these bourbon glasses for even more gifting ideas.)
If you aren't someone who cares much for bourbon, you might not be aware that there's a difference between bourbon and whiskey. Here's the scoop: All bourbon is whiskey, but not all whiskey is bourbon. The biggest difference is that bourbon is made from at least 51% corn, which obviously makes it a vegetable and very healthy. But seriously, the sweetness from corn is what gives bourbon its distinct sweet flavor, which can't be found in most barley- and rye-based whiskeys.
Was that TMI? That's fine, we can skip ahead to the part where we show you all the fun bourbon paraphernalia we found for you to gift. We rounded up the best decanters, whiskey stones, bitters, a DIY infusion kit, and more — all particularly great if the person you're shopping for already has everything. And for the record, the bourbon itself isn't included with any of the gifts.
Check out this list of the best gifts for bourbon drinkers below to find that perfect something for anyone on your shopping list.
Best Bourbon Gifts
Best Bourbon Gift Sets
Best Bourbon Sampler Gifts