The Best Child Carrier Backpacks, Whether You're Trekking On Trails Or Running Around Town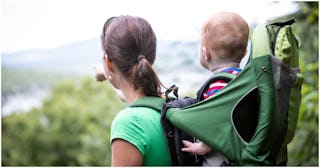 You've probably heard how useful a child carrier backpack can be, whether you've got kids already or are expecting your first. Not only can you use them to wear your child when you travel, go hiking, or venture around a theme park, but you can keep them close when putzing around the house. Regular front-facing baby carriers are great, too (and an essential piece of gear if you've got a newborn), but ring slings and wraps aren't designed to be worn as a backpack or during long outdoor excursions. As your tot gets older (and heavier), it's more convenient to put 'em on your back, and you can even get a carrier that works in both front and back positions.
Related: There's No Avoiding It: Your Baby Wants A Bouncer. Give 'Em One Of Our 12 Best Activity Centers.
Wondering what type of baby backpack carrier to choose? Here's the down-low on the different types, plus our top recommendations for casual use and outdoor adventuring.
What age can babies go in backpack carriers?
Backpack carriers are best used for babies who can sit up without any help, or at least 6 months old (ask your pediatrician if you're not quite sure).
Soft-structured backpack carriers vs. structured/framed backpack carriers
Soft Structured Backpack Carriers: These carriers are usually made of fabric and padding, so they have a flexible shape. Many are versatile and can be worn in front or back, and they're designed to be easy to put your child in and take them out. They're also especially lightweight and portable, so they're ideal for traveling. This is a comfortable option to use around the house, around town, or on casual walks or hikes.
Some downsides: Soft structured backpacks can get hot since they hold Baby's body close to yours (though some are made with mesh or breathable materials to help with airflow). Also, they won't hold their shape as firmly as a framed backpack, so your little one can sink in the seat as they get heavier, making them unable to look over your shoulder and adding excess strain.
Structured / Framed Backpack Carriers: Designed on a sturdy metal frame to hold their shape, these carriers are best for avid trekkers and all-day adventures. They offer more support for the adult wearing them, and since they hold Baby a few inches away from their body, they are much cooler to wear on warmer days. Some negative aspects of these carriers are that they are big and bulky to transport as well as put on and take off, and they tend to be much more expensive than soft carriers.
So, there you have it. If you want to take your toddler out for some fun in the sun, take a look at some of the best child carrier backpacks out there.
Best Child Carrier Backpack
Best Child Carrier Hiking Backpack
Best Child Backpack Carrier For 50 lbs (Or More)