These Sheets Look And Feel About $100 More Expensive Than They Are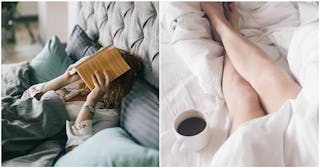 Instagram/California Design Den
My bedroom is my happy and safe place, and I've invested a fair amount of money and time making it as cozy as possible (see: fluffy comforter, cloud-soft duvet cover, plush pillows, mattress that is firm yet comfortable, and ALL. OF. THE. CANDLES). While I definitely have a "thing" for fancy sheets, I'm always looking for cheaper alternatives that are just luxurious. I also put off doing laundry as long as possible, so I kinda need a few bedding options (also, I'm Team Wash Your Sheets At Least Once a Week). I firmly believe you can have decadence and not experience a panic attack after spending too much money. Especially not for sheets. This is 2021: You can totally find a set of bed sheets that are in your price range and aren't made of petroleum products.
RELATED: Can You Wash A Down Comforter In The Machine? Here's What To Know
After scouring through hundreds of bed sheets, I found one brand (California Design Den) that checked off all the qualities I was looking for: They're 100% pure cotton, have deep pockets to fully cover a thick, queen mattress, are environmentally-friendly, and are ultra-soft. Plus, they came in 20 different colors. I ordered two sets of sheets about a year ago, and they're still in perfect condition (somehow even more soft, but not a hole or rip in sight — and that says a lot, considering my 85-pound dog loves to carelessly jump on and off the unmade bed). Slipping (lol, more like collapsing) into bed every night feels like I'm at a 5-star hotel.
For queen size sheets, the 6-piece set will only set you back $56 ($51 if you count the $5 coupon you can apply toward your purchase on Amazon). I've tried sets for much more expensive, and these feel just as lavish, if not more. I already prefer spending the day in bed, but now it's actually torture getting out of bed in the morning because it means my body isn't cloaked in these baby-soft sheets. 100/10 recommend.
This article was originally published on