Baby Yoda Cookie Cutters Exist For All Our Festive Baking Needs
by Anna Baboval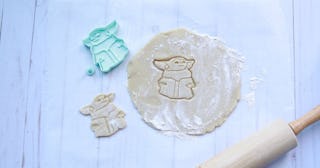 Etsy
One of the best parts of the holiday season is busting out our best cookie cutters and baking with our kids. Putting on our apron and setting up our fancy baking gear that gets a workout only once a year while our kids teeter on their pint-sized step stool. (Okay more like flour all over the counters and icing dripping down the cabinets, but it's still awesome and magical and delicious!) We all have our classic heart, star, and tree cookie cutters that serve us well from year to year, but why not mix things up this season? The cookie cutter market is saturated with just about every shape, style, and design we could imagine and then some. (Seriously there are some things that just shouldn't be on a cookie!)
When shopping for cookie cutters there are not only so many options to choose from, but also so many materials. Aluminum, copper, stainless steel, and plastic — so what's the difference? Plastic and aluminum cookie cutters don't last as long as the other options, but are great for kids (especially the plastic ones) — yet are more difficult to cleanly cut dough. When the shapes are ones we love and want to pass on to our kiddos, copper cookie cutters are the way to go. Stainless steel will provide durable cutters that slice through the best sugar cookie dough with ease, but will rust if not dried immediately after washing.
Baking cookies for friends and family is a past-time that we mamas love to share with our kids and gives us much-needed downtime in an otherwise hectic holiday season. We've rounded up our picks for the best cookie cutters of 2021 to inspire even the biggest Scrooge to get into the kitchen. We promise there are some funny ones too, because let's face it, we all could use a good laugh right about now.
All-Around Best Cookie Cutters
Best Holiday Cookie Cutters
Most Unique Cookie Cutters
Novelty Cookie Cutters
Looking for more great must have gadgets and gear to prep for the holidays? Check out all of our mom approved home and kitchen gear.