The Best Dog Anti-Chew Sprays So Your Pup Finally Leaves Your Shoes Alone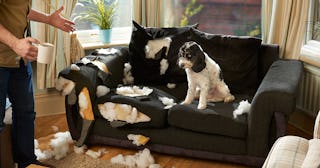 Getty Images/Sturti
Whether our family dogs are energetic puppies or wise old pooches — most of them (and our shoes) could probably benefit from dog anti-chew sprays in the house. These anti-chew sprays are formulated with bitter flavors and are designed to keep your dogs away from your things. Frustrated with your dog chewing up your rugs? Can't keep your puppy away from the baby's toys? These anti-chew sprays can help you fix the problem.
RELATED: Best *Nearly* Indestructible Dog Toys That Will Stand Up To Even The Toughest Teefs
Used as a training tool, dog anti-chew sprays are made with either all-natural bitter flavors or bittering agents. Once your dog tries to chew on something you've sprayed it on, they'll be smacked in the face with a terrible taste. (The same way you're smacked in the face with the smell of rotten eggs when they let one rip.)
While puppies would absolutely benefit from a product like this, older dogs set in their ways might also need a refresher on manners. No dog is too big or too small, too old or too young to break a chewing habit. Note that it might take a few weeks — many of these anti-chew spray brands advise you give a minimum of two weeks to make sure this works. Ahead, find our picks for the best dog anti-chew sprays!
Best Dog Anti-Chew Sprays
This article was originally published on