Toy Dogs For Kids Who Desperately Want A Puppy (But You're Like, "Hell No")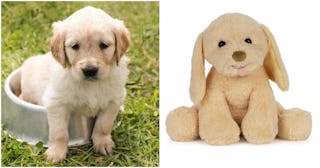 Pixabay/Amazon
The best dog toys for kids (not to be confused with dog toys for dogs) are *almost* as good as the real furry thing! From experience, we know it's not the same (no matter how much we begged for the real deal), but sometimes allergies, space, or young age don't permit getting a dog at the moment. As parents now — we get it. Although when we were growing up without a pet, all we had was our 90s cartoons and Tamagotchis. These days there are walking robot dogs that poop…oh the evolution.
If you have a kid who'd rather spend time with dogs than with people (we get it), check out our list of adorable puppy toys for kids. From walking puppy toys, snuggly stuffies for babies, and the most realistic dog stuffed animals ever, we've rounded up the best mom-approved gifts for all kids who just really, really love dogs.
As opposed to a real living pup, the toys on this list can give your child a sense of responsibility for caring for a pet, but without all the poop and shedding. So, if a real dog isn't in the cards for your family right now — or even if you already have your own good dog at home — let us help you find the perfect toy dog for your kid.
RELATED: Ready To Add A Dog To Your Family? These 5 Questions Will Make The Process Less Ruff
Best Toy Dogs For Kids
Walking Dog Toys
Dog Toys With a Leash
Dog Toys for Babies