The Best Farm Animal Toys To Add To Your Tot's Collection
by Jenn Sinrich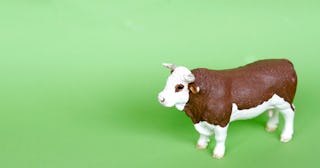 Getty Images/Isabel Pavia
Farm toys are iconic. When you think back to your favorite toys as a kid, chances are they had a farm theme and definitely some animal friends involved. There's just something about farms that kids love—and you bet your bottom dollar that not a damn thing's changed since you were a tot (other things have, but definitely not this). Your kiddo is still going to want to play with every single animal he can get their hands on.
Farm toys are also super educational—they teach your child about different animals that they'll likely come across in their first few years of life, both in terms of their appearance and the funny sounds they make. Farm toys help foster imaginative play, which encourages problem solving and the use of fine motor skills. They also capture your kiddo's imagination for as long as you need to throw in that load of laundry (or five) or get dinner on the table, which is a huge help.
Because farm toys are so popular, there's certainly no shortage of them. In fact, toy stores practically have an entire aisle dedicated to them—and Amazon pages scroll for infinity when you search "farm toys."
So without further ado, here are some of the very best farm toys out there for toddlers.
Best Farm Toys for Toddlers
Best Farm Animals Toys
Best Farm Toys for Kids
Best Toy Farm Sets
This article was originally published on