19 Gift Ideas For Your Housekeeper To Make Sure They Feel *Extra* Appreciated
by Anna Baboval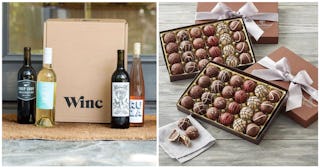 Winc/Harry & David
According to Emily Post, gifts for housekeepers should be small and thoughtful. We couldn't agree more! After all, this person has the most thankless job cleaning up our kiddos playroom (so many LEGOs), making our partner's bathroom sink shine (need we say more?), and organizing our clothes after we tried to get dressed in the dark. We think anyone who voluntarily gets down on the floor to scrub our toilet base is a modern day hero and should be pampered for it. Especially if they've been able to come to our homes during 2020 of all the years — and ESPECIALLY if they haven't (and if you know they've lost business due to the pandemic, you should send them a generous check on top of a meaningful gift, if you can).
Gifts for our cleaning person (as well as for everyone who works in our home) can come in a variety of shapes and sizes, from the personalized special after-work treat (ahem… wine!) to a designer bottle of perfume they might not splurge on themselves. Regardless, when gifting for an occasion to our cleaning mavens, we want them to feel cared for, pampered, and stress free. Just like we do when we walk into a clean house (okay, even just a clean kitchen will do).
Not sure where to even start? We've curated the best gift ideas for housekeepers from helpful on the job gear to indulgent treats. You'll be sure to make their day!
Best Gifts for Maids and Housekeeping Staff
Need more ideas for all the people on your list this year? Check out all of our gift guides full of unique mom approved inspiration!