10 Halloween Costumes For Girls So She Won't Have To Be A Black Cat Again
by Steph Osmanski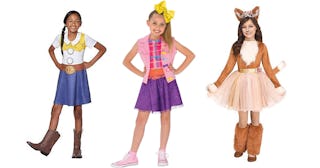 Don't run out of time this Halloween — who really wants to be a black cat if they don't have to be? Certainly not the little girl in your life. So forget the drawn-on whiskers and go-to headband with kitty-cat ears this year. She's over it. Below, we've rounded up some of the best Halloween costumes from your child's favorite movies, TV shows, and what's hot now. Your kid is gonna rock Halloween with these 10 popular Halloween costumes for girls.
RELATED: 16 Adorable Baby Halloween Costumes You Can Buy Online
Keep reading to check out our favorite Halloween costumes for girls!
DON'T FORGET TO COUNT YOUR SHEEP
If the girl in your life felt any bit as inspired by Bo Beep 2.0 in Toy Story 4 as we did, then this hard-hittin' getup will be the Halloween costume of her dreams. Bo Beep re-entered the Disney-Pixar franchise with a vengeance, taking names as a girl-power icon for all the other toys. Who wouldn't want to dress like her?!
RELATED: This Is The Ultimate Halloween Idea Guide Of 2019
LEGGO MY EGGO
Pillowcase for candy in one hand, waffle prop in the other. Grab a little bit of fake cosmetic blood, too, and your child will have the ultimate Eleven costume just in time for Halloween. Instantly make it into a group costume by having a Mike, Dustin, and Lucas screaming, "She's our friend and she's crazy!" a la Season 1.
SUGAR & SPICE & EVERYTHING NICE
Unicorns are having a moment right now (are they ever not?), so if you ask your little one what she wants to be for Halloween and she answers, "a horned mythical creature," this tulle dress with wings will be the perfect fit. The bodice of this handmade dress is made with 3D rainbow-colored flowers and will be beloved by any unicorn enthusiast.
YEE-HAW!
Cowgirl in training? She'll love this classic Jessie costume from Toy Story 2, 3, and 4. Braid that hair, throw on some boots, and just like that, she's a part of Woody's Roundup.
SHE'S JUST LIKE YOU!
For a ghoulish girl in a human world, what better option is there than to dress up like Vampirina for Halloween? This Halloween costume for girls comes complete with glittery purple wings and a headband featuring Vampirina's signature bat-shaped pigtails.
RELATED: These Vampirina Toys Are Purple And Fabulous
DOES THIS OUTFIT MAKE ME LOOK LIKE A DRAGON TRAINER?
For dragon trainers in, well, training, this Astrid costume from How to Train Your Dragon: The Hidden World is the perfect go-to. Your child can make their mark as part of the Hooligan tribe with this costume that features a tunic with attached gauntlets, leggings, knee pads, and leg warmers. Now all she needs is a fire-breathing dragon!
GAME ON!
Fortnite obsessed? Then the girl in your life will jump at the opportunity to dress up as Zoey from the popular video game. The outfit comes with Zoey's signature leggings, tunic, and a bright pink visor.
BREAK OUT THE BOW
If there's a Jojo Siwa fan in your life, chances are she already has a collection of Jojo-approved bows. Pair one of them with this adorable costume skirt and vest with attached top, or use the bright yellow bow this costume comes with! Modeled after the exact outfit the Dance Moms star wore in her "Boomerang" music video, this costume is officially licensed and is about as glittery and vibrant as Siwa herself.
UMA'S REVENGE
Just in time for Descendants 3, your child can channel the evil, vengeful ways of Uma, daughter of classic Disney villain, Ursula. With this licensed costume that features a jumpsuit, jacket, and fingerless gloves, your kid will bend the seas to her will and come home with quite the bounty of Halloween candy.
WHAT DOES THE FOX SAY?
Last year's Halloween costumes were all about deer, but consider 2019 the year of the fox. This fox costume is perfect for animal-lovers and is guaranteed to stand out in a sea of trick-or-treaters. This dress features faux fur detailing on the chest and wrists, as well as includes a tail, floral headband, and faux fur boot covers.
Although we only recommend picks we really love, we may earn a commission on purchases made through links from our site.
This article was originally published on