The Very Spookiest Horror Novels To Read This Month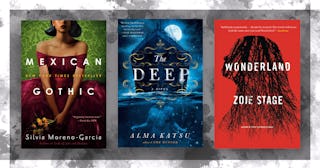 Scary Mommy and Amazon
Warning: A list of all of the very the spookiest books we could even think of lies below…
Horror movies are great. You can watch them with friends, they've got the creepy music, and you can watch one start to finish in a couple of hours.
But absolutely nothing beats a spooky book. You're either reading it alone or out loud (reading out loud is creepy!) and it's quiet and dark and you can hear every creak of the floorboards and howl of the wind. You're also totally immersed in the world of the story, and your imagination is in charge of bringing it to life in the eye of your mind. Nothing can scare you quite like your own brain with the assist from a truly good horror novel.
Below, we've collected our very favorite scary tales—the ones that have never left our consciousness since we read them, the ones that still make guest appearances in our nightmares. Some are classic tales that have frightened generations of readers and some are new releases that are just getting started, but all of them make our blood curdle and our hands shake.
The Spookiest Horror Novels
Join the Scary Mommy Book Club Community
It's like a real-life book club, except we're all snarky and very few of us are wearing pants. Find out what this month's book is, get great novel recommendations, and a lot of laughs.
This article was originally published on