8 Kids Jump Ropes That Encourage Retro Summer Fun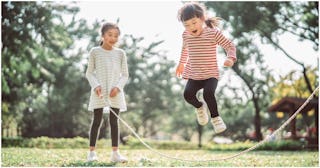 Getty Images / Images By Tang Ming Tung
Looking for the best jump rope for your kid? You're not alone. Jumping rope, after all, is one of the purest pastimes of summer (along with riding scooters, eating ice cream, and family beach days). It's also a great way for your child to learn a bit more about coordination while having fun, spending time outdoors, and of course, burning off excess energy.
Related: Your Backyard Will Need These Inflatable Water Slides This Summer
You might think that jump ropes are pretty standard, but that's actually not the case. When you're looking for the best jump rope, there's a lot to consider — length, size, weight, and even materials. Some jump ropes are literally heavy ropes for adults working out, while others are made of small plastic tubing. And the ones that light up? Those are extra fun, especially for kiddos who love playing 'til it's dark.
Needless to say, you want to make sure you put some thought into your pick, especially for a kid who's just starting out. Here are some good recommendations for a good jump rope to get.
Best Jump Ropes For Kids
This article was originally published on