The Best Baseball Gloves For Kids Who Want To Have A Ball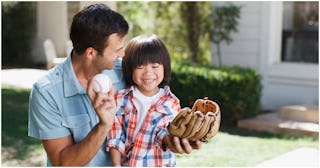 Getty Images/Paul Bradbury
The best baseball gloves for kids are right here, and you've found them just in time. Springtime means the return of baseball season, and that means picking out baseball gloves for your sports-obsessed little leaguer. And, we don't take this decision lightly. When it comes to athletics, there's a lot to consider when picking out the right gear: For moms, it's important to get items that are designed for your kiddo's size and ability level. But for kids? Well, it has to look cool — and bonus points for anything that features a Disney character.
Whether you've got a kid starting baseball, basketball, soccer, or any kind of sport, you want them to be prepared. It's important to make sure your little one stays hydrated with the right water bottle (in other words, one they'll actually use). And keeping track of all that gear (cleats, balls, socks, jerseys, etc.) is a nightmare in itself. It's just an unwritten rule that kids have to kick their shoes off as soon as they get in the car. It's inevitable. So instead of buying a second pair of cleats after losing them under one of the seats, make sure they've got a great backpack or sports bag to keep all their stuff in one place in one place.
RELATED: The Best Kids Basketball Shoes, According To Pros — And Why It Matters, Anyway
When it comes to finding the right baseball glove for your mini shortstop, here are some factors to take into consideration: What is their throwing hand versus catching hand, what size fits them best, and what position do they play on the field? We've compiled a wide variety of different styles of baseball gloves, ranging from beginner T-ball gloves up to youth and even adult-sized mitts. So whether your kid prefers the basketweave webbing over the H-web, or they love the feel of genuine leather over synthetic material, there's a little something for all players in this list.
Best Kids Baseball Gloves
Toddler Baseball Gloves
This article was originally published on