Kid-Friendly Exercise Equipment & Toys That Let Your Little (Safely) Work Out With You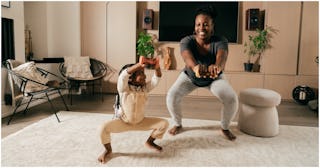 Getty Images / kate_sept2004
We all want our kids to be their healthiest selves inside and out, and kids exercise equipment can teach children to love physical activity at an early age. As parents, we are responsible for modeling good behaviors, and it's important that our children see us engaging in regular exercise. Oftentimes they're keen to join in, especially if it's an engaging yoga video, high-energy jump rope session, or roller skating at the park. There are so many ways to keep moving together, but many workout pieces are geared for adults and can be dangerous for the younger set.
Related: The Raddest Boogie Boards Your Kid Needs To Surf The Waves This Summer
Thankfully, manufacturers have taken note and created a wide variety of equipment and accessories that are safe, fun, and kid-approved. (Heck, they've even started including the pets at this point!) It's important to choose pieces that will not only interest and engage your child, but also are appropriate for their age and abilities. Take some time to read all the instructions and recommendations that accompany your purchase. Safety first: be sure not to give kiddos access to equipment that may be too large for them and can potentially cause an injury. Double-check that the clothes and shoes they are wearing are appropriate for the activity (no flip flops on a skateboard!). And of course, parental supervision is always important.
Whether you want to get physical inside or outside, we've rounded up the best exercise toys and equipment that will appeal to a variety of ages and interests.
Best Kids Exercise Equipment
Best Exercise Toys For Kids
Best Kids Workout Equipment
This article was originally published on