20 Awesome Gifts For Kids That Are Under $20
by Team Scary Mommy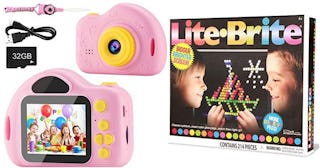 Amazon
Even with all of the Black Friday sales in the world, it can still be hard to find the right gift at the right price. Finding a great gift for kids can be especially difficult if you're on a budget. Well, no fear mama. You're not alone! Not everyone has the time to find or the money to spend on an extravagant gift that their kid will probably break in a month's time. Gifts under $20 are more our speed too.
Because a lot of us have been busy with the chaos that comes along with the holidays, trying to survive snow days, battling colds–all on top of virtual learning during a pandemic–we know your time to research 20 dollar gift ideas is limited. How the hell do you find awesome, quality toys under 20 bucks? Are there even any popular gifts still available under $20 after that massive sweep of Cyber Monday? Don't you worry. We did the hard work for you and created a list of the best gifts under 20 dollars. From toys for toddlers to games for tweens, this list will help you through this holiday season and beyond.
Here are 20 awesome gifts I found for under $20 that kids would love to find under the tree this year.
For Younger Kids (Ages 2 – 7)
For Bigger Kids (Ages 8 – 12)
Luckily, kids are pretty awesome themselves. And they'll love whatever we get them…until they're tweens and teens, then all they'll want is the newest smartphone. If you're in need of more gift guides for the kids this holiday season, check out our gift and toy guides by age!