The Best LEGO Storage Ideas To Save Your Feet And Sanity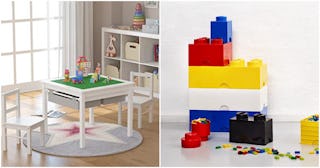 Amazon
Lego storage containers, bins, and organizers can help prevent some of the most common parent ouchies … and that's putting in nicely. "Ow &!@#!" We've all said it — especially when we've just stepped on a Lego. Legos are amazing building toys! They teach kids of all ages and abilities to create and imagine. They can occupy our kids for hours, giving us parents a well-deserved moment to ourselves, so thank you Legos! But, these cool toys are also miniature torture devices used to torment tired adult feet. If you have ever dropped the F-bomb after stepping on a Lego land mine while your child looks on stunned and scared — then you know Lego storage is a serious matter.
Yes, Lego storage solutions should be cute and functional, but it is absolutely imperative to find the Lego storage your child will actually use. Lego tables are a popular solution since they offer a contained place to build with the bonus of storage. As expected, all the Lego brand storage containers are practical to use and adorable decorative additions to a child's bedroom. And then there are all those other Lego storage ideas that aren't specifically created for Legos, but they do the trick in taming the mess.
For a Lego storage option that could actually work with the style of your home, we asked Alexandra Parrish, CEO and founder of interior design company Revolutionized by Design, for her go-to solution.
"As a designer, a huge part of my job is creating beautiful spaces that have functionality for real life," Parrish told Scary Mommy. "For toy and Lego storage, you can't go wrong with the IKEA KALLAX shelving units. They come in various sizes and colors (can even be primed and painted if you want a custom look), can be added together to fill out a space, and they even offer all sorts of perfectly fitting bin options that will work with different design styles, from modern to boho and just about everything in between."
Regardless of what Lego storage solution you choose, save your feet (and the embarrassment of hearing your little one repeat your obscenities) and clear the Lego minefield once and for all.
Lego Tables With Storage
Lego Storage Containers & Bins
Lego Storage Ideas
Go mom! You finally conquered the Lego clutter. Take a look at all of our innovative ideas and kid gear solutions to keep your family's mess in check.
This article was originally published on