35 Adorable Llama Gift Ideas For Everyone You Love Who Loves Llamas
by Caroline Macon Fleischer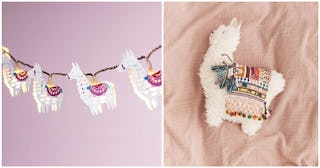 Amazon/Urban Outfitters
Llamas. We don't know what it is about them, but llama gifts and merchandise have captured the hearts of modern society. We can't get enough of llamas! And can you blame us? Look at their sweet, hilarious furry faces. An icon for kids and adults alike, these mountaintop-dwellers have traveled down from the rocky terrain and found themselves printed on coffee mugs, bed sheets, shower curtains, and even carved into furniture. If you're looking for gifts for animal-loving kids or adults, llamas are the most unique way to go (odds are, kids already have enough dinosaur toys, mermaid merchandise, and garbage trucks to last them a life time).
But don't think llama items stop at kitschy kitchenware and blankets (although add all that to cart, too). This comprehensive gift guide is perfect for shopping for your llama-loving loved ones. Whether you are shopping for your kids' teacher, a hardworking nanny, or just for yourself — these are our top llama gift picks for the 2020 holiday season.
Llama Gifts for Babies
Llama Gifts for Toddlers and Kids
Llama Gift Ideas
Llama Décor
Can't get enough? Shop with us for more gift-giving delights.