12 Best Maternity Sweatshirts You'll Want To Wear Everywhere (Even After Giving Birth)
by Jessica Booth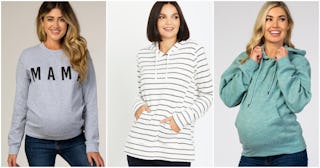 Pink Blush / Motherhood Maternity
A maternity sweatshirt (or rather, a handful of zip-ups and hoodies) needs to be part of your pregnancy wardrobe, since being comfortable is never as important as it is when you're expecting. Made to stretch and grow with your ever-expanding belly, a great maternity sweatshirt will keep you cozy and warm on chilly days and nights and will never feel restricting. They're also versatile: you can wear a maternity hoodie while lounging around the house in your favorite maternity leggings, or you can pair it with jeans and comfy shoes and wear it to run errands or see friends. You'll also use it to cozy up in when you need clothes to wear postpartum. Really, the possibilities are endless, and we're all for it.
RELATED: The Best Maternity Summer Dresses, Because Pants In The Heat = Hell
When looking for the best maternity sweatshirt, you might want to opt for at least one style in a neutral color (like white, black, or brown) that will go with pretty much anything and can be thrown over whatever else you're wearing. If you prefer bright colors, go for a bolder shade for something more fun. And while zip-up hoodies are nice to toss over your shoulders, they may not grow with your belly as well as a pullover. Some have special panels and zippers to allow for easy nursing and pumping access. And remember, buying a maternity hoodie that's also ready for postpartum life is a great bonus.
Now that we've convinced you (you're welcome), check out some of our favorite maternity sweatshirts and hoodies you can buy right now.
Best Maternity Sweatshirts
Best Maternity Hoodies
This article was originally published on