Make Sure Your Mom Gets Her Mother's Day Gift In Time With These Sweet Delivery Options
by Karen Tietjen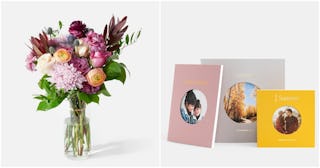 Urban Stems/Artifact Uprising
Mother's Day delivery gifts that show love and sentiment are the next best thing to hand-delivering a Mother's Day present in person. Whether you're practicing social distancing or you live far away, you may not be able to be with Mom on her special day (*sniff*), but you can still let her know how much you care. But here's the thing: Nowadays, you can send just about anything to anyone anywhere. So to make it truly special, you'll want it to arrive wrapped, packaged, and tied with a pretty bow. That way, she can open it on your Mother's Day FaceTime call so it's almost like you're actually there.
If you're reading this last-minute, your options for super-fast delivery gifts (we're talking, next-day and even same-day delivery) are limited. However, we're basically gift-giving experts here, so below, you'll find a few thoughtful ideas for when you need a gift shipped, stat (P.S., our last-minute gift list has even more ideas, or you can treat her to a monthly delivery box for a gift that keeps on giving. You're welcome.)
Can I get a Mother's Day gift with next-day or same-day delivery?
This one's tricky because not only is Mother's Day a big gift-giving holiday — meaning delivery vendors are sure to be slammed — many companies can't guarantee deliveries on Sundays. Below we have a few options where it's possible to put in an order Friday or Saturday and get it delivered on Sunday for Mother's Day, but it is not guaranteed.
If you're super last-minute, your best bet is to choose something that can be delivered instantly online. Check out some of our favorite out-of-the-box picks that are a little more personal than an Amazon gift card (although depending on the mom in mind, that could work, too!).
So whether you're planning Mom's present weeks in advance or the evening before Mother's Day, we've rounded up the best gifts to send, including thoughtful picks for when you need something, like, today.
Best Mother's Day Gifts With Fast Delivery
Best Mother's Day Delivery Gifts