45+ Mother's Day Gifts They'll *Actually* Like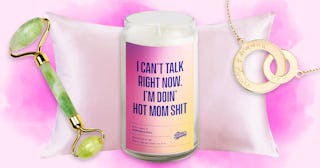 Scary Mommy, Amazon and Merci Maman
You've found it: The ultimate Mother's Day gift guide for moms, grandmas, spouses, mothers-in-law, even hard-to-buy-for moms who have you stumped. After all, the whole purpose of the day is to show that you care, and different moms prefer to be appreciated in different ways. There are gifts for the sentimental mom who holds memories dear or the practical mom who'd take function over clutter any day. There's Grandma, who plays a maternal role for both you and your kids, expecting moms with a bun in the oven, and there are other moms in your life — sisters, friends, even doting dog moms — who you'd like to recognize, even if it's just in a small way. From the best Mother's Day gifts on Amazon to unique picks from luxe retailers, we've got the goods, and then some. And BTW, this list was curated by moms, meaning it's the stuff we actually want, so the mom in your life will, too.
Since we're all about moms here at Scary Mommy (obvi), we've also got Mother's Day round-ups for the best gifts for sending (including virtual gifts), the best mom jewelry, the best monthly delivery boxes, and the most thoughtful presents to snag in a hurry. But first, a few answers to your burning questions…
When is Mother's Day 2021?
Mother's Day this year is Sunday, May 9. Mark it in your calendar, or else.
Why is Mother's Day celebrated on different dates?
The exact date of Mother's Day varies each year. Here in the US (and in many other countries) it's always on the second Sunday in May. Fun fact: In some countries, like the UK, they celebrate Mothering Sunday, which always falls on the fourth Sunday of Lent. This is a Christian-based holiday that dates back to the middle ages.
What is the origin of Mother's Day?
Did you know Mother's Day as we know it is a relatively recent holiday? While celebrations of mom can be traced back for centuries, the official holiday as we know it was established in 1914 by Anna Jarvis, according to History.com. The founder wanted to honor her late mother, Ann Reeves Jarvis. However, she was later so disappointed with the commercialization of the holiday, she tried to have it removed from American culture.
***
You learn something new every day, eh? So without further ado, scroll on for our extensive list of Mother's Day gifts for every Mama, Grandma, and belvoed mother figure in your life.
Best Mother's Day Gifts
Best Sentimental Mother's Day Gifts
Best Mother's Day Gifts From Husbands to Wives
Best Mother's Day Gifts From Sons
Best Mother's Day Gifts From Daughters
Best Unique Mother's Day Gifts
Best First Mother's Day Gifts
Best Mother's Day Gifts For Grandma
Best Mother's Day Gift Ideas For Hard-To-Buy-For Moms
Best Mother's Day Gifts For Practical Moms
Best Mother's Day Plant Gifts