The Best Outlet Covers To Keep Curious Babies And Toddlers As Safe As Possible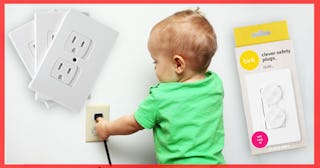 Scary Mommy, bukharova/Getty and Amazon
While outlet covers for babies may not have been on your baby shower registry, it's an important addition to your home when you have little ones. There comes a time when your little one goes from an infant who isn't interested in anything that's not in their immediate vision to a toddler who wants to touch every single thing they can spot. When that time comes, you'll want to be prepared, and one of the most important baby-proofing items you can buy are the best outlet covers for babies. There are lots of ways to keep your tot safe in your home, but keeping their fingers away from electrical outlets where they could potentially be seriously harmed is essential (just as essential as baby gates for stairs and fireplace gates for babies).
Are outlet covers necessary?
When it comes to babies, yes. Electrical outlets are particularly interesting to babies: they're usually within easy reach since they tend to be low to the ground, and they just look like something they can stick their fingers in. Outlet covers keep their fingers away and can usually look pretty subtle. There are a few different types: plug-ins that are super easy to use, box covers that are great for cords, and sliding covers that work with outlets that are typically in use.
Merge safety and convenience with the best outlet covers for babies out there — we've rounded them up below.
Best Outlet Covers for Babies
More Baby Proof Outlet Covers
This article was originally published on