These Gift Ideas For Pharmacists Are Just What The Doctor Called In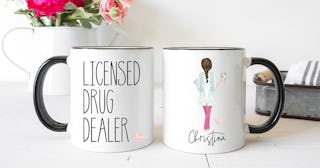 Etsy
If you clicked on this article, you're probably scratching your head to find a pharmacy-themed or pharmacist gift that's tasteful (there are so many tacky gifts out there!), affordable, and practical. To help you out, we've come up with a list of pharmacist gift ideas that are accompanied by a long list of positive reviews. Just like nurses, doctors, and teachers, pharmacists are essential workers who we've been depending on this year, especially. Who's there when you have 5,000 questions about your antibiotics? The pharmacist. Who's calling your GP non-stop to make sure they fill your dang meds? Your pharmacist. Who also rings you up for that sneak Essie nail polish purchase you threw in your cart while waiting for your birth control pills to be filled (and thereby avoiding the long line at the normal register)? Your pharmacist, aka the badass in charge at the drug store.
Here are 31 pharmacist-approved gift ideas each categorized by its individuality, usability/practicality, and tastefulness to show your appreciation.
Unique Pharmacist Gifts
With so many gift ideas out there, finding the best one can be difficult. (This is particularly true if you're trying to find something that's worthy enough for a healthcare worker.) If you're struggling to find a gift that's truly unique, here's a list of gifts any pharmacist would be thrilled to receive.
Practical Pharmacist Gifts
Although useful gifts are usually shrugged off as "boring," there's nothing wrong with gifting something that's practical (i.e. something your friend can use all of the time). If you're looking for a gift your pharmacist friend can use over and over again, this list is for you.
Funny Pharmacist Gifts & Pharmacist Gag Gifts
With the way 2020 has played out so far, there's no doubt we could all use a good laugh. Here are eight funny (read: tasteful) pharmacist gifts your friends are sure to love.