The Best Play Houses For Sparking Imaginative Play, Both Indoors & Out
by Jessica Booth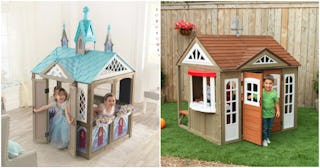 Wayfair/Walmart
Playhouses let kids' imaginations run wild, and if you have space (either inside or outside), getting one is a great way to promote free play and help burn off excess energy! As your little one grows from a baby into a toddler, they become more and more obsessed with imitating the adults all around them. This is just one reason that one of the best things you can buy them is a kid's playhouse. These little mini houses are perfect for toddlers and older kids alike, as they offer a safe space for them to call their own and encourage lots of creative play. Play houses for kids are especially great for the warm weather since you can plop them down in the yard outside, sit close by with your sunnies on and a cold drink in hand, and keep an eye on them while they entertain themselves.
The best kids playhouses are sturdy and durable, able to withstand some bad weather (unless they're only meant for indoor use, of course), and come with a few other accessories (like, for example, a little pretend sink or a flower box so they can "garden"). Some are a bit fancier, with attachments like slides or climbers that toddlers will absolutely love. You can opt for plastic, which is really easy to clean, or wood, which may look a little bit more kid-chic rather than bright and colorful.
And the fun doesn't have to be outside: Indoor playhouses for kids make their playroom or bedroom way more exciting (especially when they features your child's favorite tune-belting Disney character). Whatever you're looking for, there are tons of options, and we've highlighted the best ones below.
Best Outdoor Plastic Playhouses
Best Toddler Playhouses With A Slide
Best Indoor Playhouses For Boys & Girls
Kids Outdoor Forts
Wooden Play Houses For Kids