These Pogo Sticks Will Get Your Kids Jumping Outside (And Not On The Couch) In No Time
by Keri Pina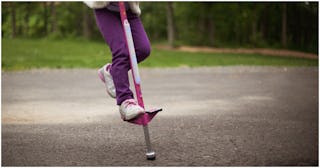 Getty Images / Jessica Nelson
The best pogo sticks for kids are excellent energy-burners (especially for youngsters who complain about being bored all summer). Kids absolutely love to get their jump on, whether it's on a backyard trampoline or in a bouncy house. And like the humble jump rope, a pogo stick might seem like another throwback toy from yesteryear that maybe modern kids would rather leave in the past. But pogo sticks are rebranding, and much like skateboards or scooters (or rather, the 2021 versions known as hoverboards and e-scooters,) they've become their own little vehicle for extreme sports. Kids are doing flips and tricks (perhaps it's time for a new helmet?) and setting insane bounce goals like 1,000 in a row without falling. And since pogo sticks actually tone most of your major muscle groups and build balance all while giving you a cardiovascular workout, we really can't say enough good things about them.
Related: These 305+ Random, Fun, Interesting Facts About Legit Everything Will Shock You
Finding the best pogo sticks for your kids comes down to finding a stick made for your kid's skill level and weight — then it's up to them to really figure out how it works. The beauty of mastering the pogo stick is much like learning to ride a bike; finding that perfect balance feels impossible at first and it's hard to believe that people do this for fun. But also like riding a bike, once they figure it out, muscle memory takes over and they can bask in the glory (and confidence) of acquiring a fun, new skill.
So let's jump feet first into our list of the best pogo sticks for kids. And don't worry, there are a few sprinkled in here that can support adults, too.
Best Pogo Sticks For Kids