28 Push Present Ideas For New Moms & Dads To Welcome Them To Parenthood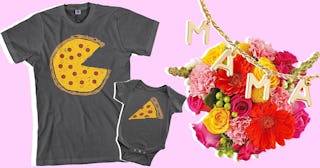 Image courtesy brands
Push presents and push gifts are common for new mamas (and dads), and if you're looking for ideas, you've come to the right place. For starters, we want to point out that there's a good reason why push presents a thing. Pregnancy isn't easy. You're constantly uncomfortable (RIP normal sleep schedule), you have to choke down an ungodly number of prenatal vitamins, and whatever money you haven't already spent on baby gear goes towards maternity clothes that you'll only wear for six months (goodbye bank account).
But there are some things to help new moms—and new dads—make it through the arrival of their little one (and make all those months of pregnancy worth it). One of those things? Push presents.
What's a Push Present?
A push present (also known as a push gift) is exactly what it sounds like: It's a present that a new mom gets for pushing. Typically given by her partner or her family, push presents can range from things for the baby (like clothes, toys, bed rails, or baby bouncers) to things for Mom (like essential oils, a cozy robe, or jewelry). There are even push presents for Dad, like engraved watches and manly diaper bags, although this is a but controversial since dads don't do the pushing, so do they *really* deserve a push present? Google search data says yes, so we'll just go with it.
If there's a mama- or papa-to-be in your life who you want to celebrate, we've rounded up some of the best push presents below. Whether it's your friend, your sister, or your own wife, these are the push gifts any new parent would enjoy and that will make their foray into the world of parenting at least a little bit easier.
Push Present Gift Ideas
Below are some push present ideas for new parents, and we've included different styles and budgets. Whether the new mom or dad in your life loves some bling, needs something more practical, or would rather just say "f*ck it" and drape themselves in a luxurious bathrobe, we've got you covered.
Best Push Present For Your Wife
Best Push Present Jewelry
Best Push Presents for Dad
Best Push Present for Mom Friends
Want more mama-to-be gift ideas? Check out all our favorite pregnancy essentials here.