*Actually* Quiet-Yet-Powerful Fans To Keep You Cool Without Keeping You Up All Night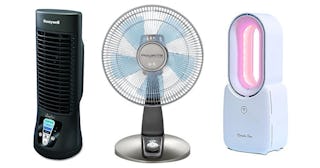 Courtesy of brands
There's nothing like the cool breeze and silent whisper of a good fan. Even on a less scorching day, a nice breeze can be just what you need to help you chill TF out. Whether you're a hot sleeper in need of the perfect cool climate to nestle under the covers, or just enjoy the white noise they provide (And yes, there are apps for that), it's always a good idea to have a high-quality and quiet fan handy.
But, as easily as a fan can make for the best night's sleep, a noisy fan can have the opposite effect and ruin your zen mood. Plus, with little ones running around, those old school fans pose a significant safety hazard for your more curious rugrats who laugh in the face of danger. It's definitely time to upgrade the hardware.
RELATED: 100+ Good Night Quotes That Will Have You Off To Dreamland In No Time
Fans have come a long way from the squeaky uneven spin of the ceiling fan or the rickety metal blades of a floor flan. There is now a such thing as a quiet, powerful fan (yay!). Thanks to ever-evolving technology, you can purchase a fan with a series of specs including a remote, speed control, oscillation, and more without breaking the bank.
The best part, these really quiet fans come in all shapes, sizes, and styles. They can fit on your overly cluttered desk, sit beside the toddler chair in the living room, squeeze in between the space beside your nightstand, or clip onto the edge of your coffee table. Towers can flood large spaces and their blade-less technology makes them a safe option for tiny tots.
So, without further ado, here's a list of the 16 best quiet fans that won't keep you up all night for the ultimate chill house.
The Most Powerful Quiet Fan
Best Quiet Desk Fans
Best Quiet Table Fans
Best Quiet Floor Fans
Quietest Ceiling Fans
Are these fans inspiring a little home decor remix? Check out some of the other must-haves we've spotted.